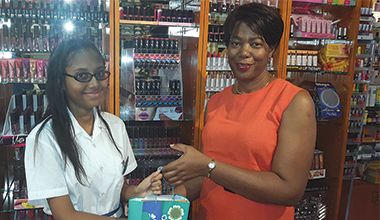 Outstanding participants in SSBQ for 2015 recognized
Participants in the Secondary School Bible Quiz (SSBQ) for 2015 have been recognized by the organizers.
At a simple ceremony held on Thursday, January 7, at Acute Cosmetics in Kingstown, prizes were handed over to the winners of two annual awards.
Two students tied for the Frequent Participant Award. Alexandria Bacchus, of the St Joseph's Convent Kingstown, last year's winner, tied with Rockwell Lewis of the Intermediate High School. Bacchus received a book – Picture Postcards of St Vincent and the Grenadines by J Chin Aleong and $400, while Lewis got an ISound speakerphone system and $300. The Frequent Participant Award is given to the student with the most correct entries for the year.
The Beginners Award, which is fully sponsored by Acute Cosmetics, went to Matthew Richards of the St Vincent Grammar School. Richards received a trophy and $500. The Beginners' Award is presented to the first form student with the most correct entries.
Kyla Millington of the St Joseph's Convent Kingstown, who is the winner of the monthly quiz for December 2015, also received her prize.
The prizes were presented by Monique Mills, proprietor of Acute Cosmetics and Janelle Jack of SSBQ.
In his brief remarks, Joel Jack, organizer of the quiz, which has completed eight years, announced that the two major awards of the Most Outstanding School and the Distinguished Graduate were won by the St Vincent Grammar School.
Also, as of this month, the monthly winners will receive an increase in their prizes – a Bible, $200 and an Acute Cosmetics' gift-voucher valued at $200. There is also a wrapped gift for the winner's parent.
Jack thanked the following persons and businesses for their support:
SVG Solidarity In Action; Jehann Jack; Acute Cosmetics; St Vincent Automotive Society Ltd; Sentry Insurance; Courts St Vincent; Star Garage; Allan's Smith Family Bakery; Basil's Bar & Restaurant.
The organizers also made special mention of WEFM and Searchlight for helping to promote the quiz throughout the year.
The quiz can be accessed at www.ssbq.org or via its Facebook page. It's aim is to remind students that the fear of the Lord is the beginning of knowledge and if they stay close to God and his word, they will be blessed with good success.