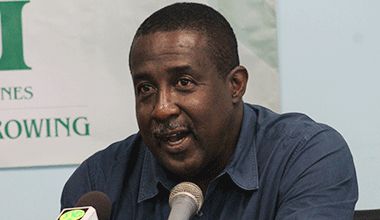 Local businesses see increase in Christmas sales, despite election
Despite last year's general elections giving Christmas a "late start", most businesses polled by the St Vincent and the Grenadines Chamber of Industry and Commerce (SVGCIC) have reported that they experienced an increase in Christmas sales.
Speaking to SEARCHLIGHT last Friday, SVGCIC executive director Anthony Regisford said that he recently conducted a survey looking at the sales performances of some of the major businesses across the various local sectors over the Christmas (December) 2015 period – in comparison to the Christmas 2014 period.
"Generally, most of the people I questioned felt that the elections gave Christmas a late start – that was the general sentiment," explained Regisford.
"That being said, most of them reported that immediately after elections there was a mad rush."
He also noted that the survey did not require businesses to divulge their sales figures nor percentages, but rather to give an "indication as to how they felt their sales were," in the two comparative periods.
The survey focused on major businesses within the sectors of telecommunications, manufacturing, food and drink (retail), furniture and appliances, general merchandise, and specialty business.
Regisford added: "Christmas is a time of heightened commercial activity. So, that's a nice area of study – to see if that expected peak sustains itself year on year."
Among the businesses that recorded an increase for Christmas 2015, the SVGCIC executive director made particular mention of LIME – which reported a 14 per cent uplift during the recently concluded Christmas period.
"Interestingly, election activity would have driven sales, because clearly, there might have been a lot of conversations, text messaging, use of telecoms services related to the election activity – even on the social media side."
He also revealed that all beverage manufacturers surveyed reported a significant increase for last year's Christmas period – suggesting that it could be attributed to election activity, because of meetings and rallies that increased numbers of vendors would be selling drinks at.
"This may be part of increased sales. That, plus the Christmas season."
In addition, all the major supermarkets recorded an increase in sales – with particular increase seen in the sales of poultry and dairy products.
"One major supermarket that I spoke to actually cited the fact that the price on the supply side for poultry and dairy products was down significantly… It impacted the retail side, so the consumer was actually paying a significantly lower price – that drove volumes up… but general sales were actually better," Regisford disclosed.
Other businesses that reported an increase on Christmas 2015 included several beverage retailers, Coreas Food Distribution and Courts, among others.
In regard to businesses that saw a decrease in sales during Christmas 2015 (compared to Christmas 2014), most of them were hardware companies, with only Laynes Hardware reporting an increase.
Regisford pointed out that in general, hardware stores typically find that customers close off their construction during the Christmas season, so it is "not typically a bumper time for them".
Other businesses that recorded a decrease include Quality Paints, Kids Plus and Finishing and Furnishing, among others.
Several other business reported to the SVGCIC that their Christmas 2015 sales remained flat, with no significant increase nor decrease on the Christmas 2014 period.
This included East Caribbean Bottlers Inc, which Regisford hastened to add has not been around long enough to give a fair comparison.
He did, however, point out that the company is hopeful that the enforcement of Article 164 of the Treaty of Chaguaramas will result in improved sales in future. Article 164 is designed to give "development space" to products manufactured in lesser developed countries in terms of export within CARICOM states.
In general, Regisford acknowledged that different factors other than the 2015 general elections would be in play with regard to influencing various sales factors.
"What we in the Chamber would like to do in the first quarter of 2016, is to look at a more in depth analysis of [total] 2015 sales – again, by sector – versus 2014… It puts us in a position where we can better understand what these factors, and what sorts of interventions can be made to make a bad situation better or a good situation better."
He also briefly touched on the comparison of this Christmas period (2015) with that of 2010,  which was the last time previously that there was a general election held.
"Within the sample group – not all of the people we sampled, but some of them – some of them felt that this election was more of a distraction than the last December election. But I don't think anyone has done the analysis to find out why that may be so, and I wouldn't want to guess."
Although acknowledging that the general election is a constitutional matter that needs to be carried out, Regisford noted that it is good for local businesses to "have a voice in terms of significant events that are necessary, but impact business in a negative way at periods when businesses should be doing better." (JSV)