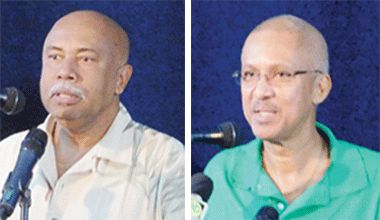 Expect bumper year for Nine Mornings – Culture Minister
The year 2016 will be a "bumper year" for Nine Mornings in St Vincent and the Grenadines.
This prediction was made by Minister of Culture Cecil McKie, during his address to the 2016 Nine Mornings prize-giving ceremony at the Peace Memorial Hall last Saturday.
According to McKie, 10,000 to 15,000 Vincentians return home each year for Christmas and it takes the months of June and July combined for Carnival to beat those numbers.
"I expect we can probably almost double those numbers for December 2016…. I mean you could argue whether we will increase by 10, 15, 50 per cent, but for sure we will have more persons coming home for December 2016," he added.
Declaring the festival as one of the most outstanding Christmas activities in the world and a very important activity in the country, McKie said this year, he intends to provide a cultural calendar to the diaspora.
"We can say to them this is what is going to be happening for December 2016 and for the other cultural activities for the year, so you can plan now because this is what is going to be awaiting you when you come to St Vincent and the Grenadines," he said.
Additionally, McKie called for enhanced lighting in 2016 at the Botanic Gardens, which made its début as a Nine Mornings activity in 2015. He also proposed that next time around concerts will be held at that venue, "so that persons can come and pay their little contribution and be entertained, while they look at the spectacle of the lighting up of the Botanical Gardens."
In his address at the ceremony, Michael Peters, chair of the Nine Mornings Committee (NMC), stated that the festival survived despite the tremendous challenge they endured this year, while describing 2015 as a historic year, in many respects.
"This year was certainly one of principal challenges in its 17-year history, as we started back in 1999; of course the festival would have taken a serious body blow when the launch was cancelled at the last minute to give way to another national event."
However, Peters said that they managed to successfully stage the festival, despite the distractions of the December 9 general elections and its aftermath.
"It shows that the festival is on a solid footing, although some communities were affected in one way or the other, we were so happy that the principal communities across the country, we were able to say that we have Nine Morning activities" he said.
Deputy chair of the NMC Lennox Bowman urged businesses to participate in putting up lights during the season, because they are the ones who benefit most from the activity. He, however, acknowledged and thanked the few businesses that support the festival.
"We say we have the best Christmas in St Vincent, but we want people that when they come, they feel it and see it. We not seeing it and we hope that that is an area which we would improve."
Bowman said that the cultural values and the tourism potential of the festival continue to be the main focus of the committee, "as we always bear in mind to make sure that the reason for the season is preserved."
Also giving remarks at the ceremony was product development officer of the National Lotteries Authority (NLA) Anthony Dennie. (AS)