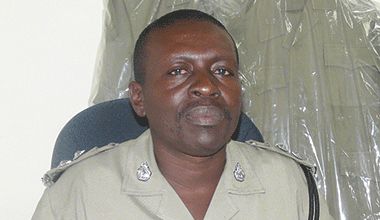 Traffic department to clamp down on careless drivers
Vincentians have been called on to be more careful on the roads in 2016 so as not to have a repeat of the record number of accidents and road fatalities that occurred in 2015.
Some 25 persons died in 2015 during 15 separate accidents.
On Tuesday January 15, Prime Minister Dr Ralph Gonsalves, while delivering an address to the nation asked persons to do better on the roads as in his opinion, "there is too much careless and reckless driving".(see full speech on pages 16 & 17).
The Prime Minister said that it appears as if the motor vehicle is fast becoming a dangerous weapon as in 2015, 25 persons died in road traffic accidents while dozens more suffered injuries.
"Surely, all of this is unacceptable. It is true that the Police must better enforce the traffic laws, but drivers of motor vehicles have an over-riding obligation to drive with due consideration for other road users," said Gonsalves in his address.
He said that this year, the government will embark upon a focused national conversation on this matter with a view to implementing appropriate changes.
"We must be very serious on this issue; it has become one of life and death," stressed Gonsalves.
Head of the police traffic department Superintendent of Police Kenneth John said that the police have been over the last few weeks fine tuning strategies to clamp down on recklessness.
These strategies include, among other things, stepping up patrols, conducting informative school visits and having discussions with public transport operators and minivan conductors.
Superintendent John said that he has already contacted Head of the Omnibus Association Anthony 'Code Red' Bacchus so that a meeting with conductors can be held where the police can explain what is expected of them.
"We want conductors to know that their only purpose is not to collect passengers and money but to ensure children are seated properly among other things. When carrying school children, they must try not to sit them at windows where they can push out their heads and if they are at windows, conductors must make sure that these windows are closed," said the traffic boss, who added that conductors must have a conductor's permit which is renewable every December 31.
The Superintendent said that he is also asking pedestrians to be careful on the roads and be vigilant when crossing the street.
"Try to observe the way the traffic is moving because there are situations where people walk out into the road without looking," said John.
He stressed that at the traffic branch, "safety is the watchword" but noted that the traffic department does not always have control over the way persons use the roads.
"It was very challenging last year," said John.
He noted also that persons must take into account that 10 to 15 years ago there were 7,000 vehicles on the road, but now they are over 30,000 vehicles using the same roads.
He noted that with the introduction of all these vehicles, persons must realize that their driving styles and habits must change as things like overtaking and texting while driving can result in death or serious injury.
"There are areas where we could overtake safely but that is sometimes no longer safe to do because there is not room on the roads for error because of congestion. Using your cellular and driving, one little mistake can be fatal".
The Traffic Department Head urged persons to be vigilant while driving with caution while he noted also that there will be zero tolerance for motorists who do not display their number plates.(LC)