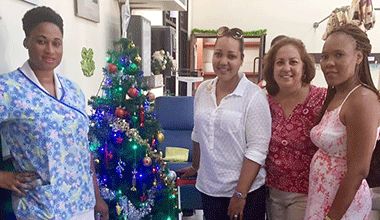 SISVG brings cheer to patients at MCMH
Soroptimist International of St Vincent and the Grenadines (SISVG) has made donations to the Female Surgical and Female Medical wards of the Milton Cato Memorial Hospital.
The donations were made in an effort to bring cheer to patients who had been admitted to hospital over the Christmas season.
"The SISVG stays committed to their adopted Female Surgical Ward and continues to bring cheer to the patients and staff at Christmas time. This year we have donated over $2,500 in medical supplies and have gifted each patient on both wards with a Christmas package, as well as decorations and lights to the ward, in hopes of creating a more cheerful environment. We have brought cheer to 28 patients who have spent their Christmas Season through to the New Year in the Hospital," a release from SISVG said.