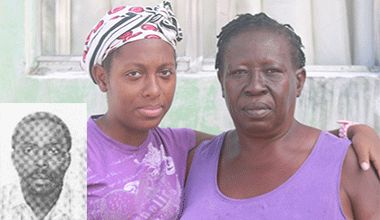 Police issue wanted alert for alleged shooter
Up to press time, Declon Anthony Glasgow, also known as 'Bage,' was wanted in connection with the Boxing Day 2015 murder of O'Jarvi 'Rat' Hooper and Hooper's relatives are encouraging the wanted man to give himself up.
Hooper, who celebrated his 20th birthday on October 20, 2015, was shot and killed sometime after 9 p.m., while hanging out at 'Africano Disco', a popular night club in South Rivers. He received a gunshot to the left side of his back and succumbed to the injury while being transported to the hospital in Georgetown.
Hooper's aunt, Iona John of Pasture, South Rivers, said that she was at home on December 26 when a friend told her that Hooper had been shot. She said that earlier, she had observed three guys pass her home and was later told that the alleged shooter was in the group.
"The police did not catch them. The family vex and the Bible say what is in thy bosom pluck it out. I believe in death penalty. When you kill, kill back the person because in jail, they get tax money and get fat. If them kill, kill them back," said John on Monday, December 28.
She added: "It is not easy for you when you have a guy like O'Jarvi, 20 years old and he life wreck just so. He wasn't sick and in bed and he was not a troublesome person."
She stressed that the accused should give up himself and allow the law to take its course.
"I feel so sad; you could have send him out anytime; he was always very busy and love jokes. I spoke to him the same day he died and I gave him cake and I tell him to behave and I spoke to him and he said he was going home when he finished, but he didn't reach," said John.
Hooper's cousin Sherrri-ann McMillan is also urging the wanted man to "give up yourself and let the law take course."
She said that she and Hooper were very close and described him as "humble, nice and not at all troublesome." McMillan said that she was outside the Africano Disco when her cousin was shot, but she did not see when he was shot. The gun blasts scared her, so she ran.
"I am very heartbroken and sad because that same day he boiled a ham and put in a bulb for my mom," said McMillan, who revealed that this is the second time that she is experiencing such a tragic incident, as on March 5, 2015, a family friend, Akesha Henson, died in a motor vehicular accident at Mt Grenan.
Police have issued a wanted alert for the alleged shooter, Declon Anthony Glasgow, also known as 'Bage'. Glasgow is said to be of medium built, with a long face and thick lips. He was born on July 15, 1981 and lived in South Rivers at the time of the incident. He is 5 feet 7 inches tall and is of a dark brown complexion, with brown eyes and a tattoo on his right arm. He is a Barbadian.(LC)