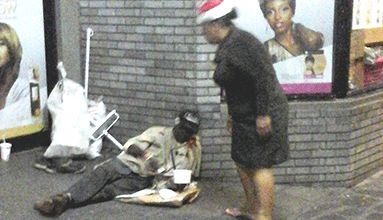 Homeless persons provided with warm meal on Christmas Day
For the eighth consecutive year, Elizabeth Medford ensured that homeless persons received a warm meal on Christmas Day.
Medford, a departmental sister at the Milton Cato Memorial Hospital, said this year, she prepared pigeon peas soup, ham sandwiches, and warm tea to serve to the homeless to provide some warmth, as it had been raining all day.
"It was a very rainy night and most persons had to cover with cardboard or pull their shirts over the head to get some warmth," Medford said in a release.
"This year was very emotional, especially when speaking to the lone female who was being wet by the rain, alone and suffers from dementia. She had her Bible open and said she became homeless after someone murdered her husband some time ago."
According to the release, the number of homeless is consistent with last year.
"Most of the homeless are suffering some form of mental illness and can be helped. I shed a few tears after speaking with the elderly female and made her a promise to get her a warm place. So far, I am investigating the family support and will continue to do so until she is in a safe place. Next year I will be seeking the help of the public to ensure everyone is in a warm place, especially at Christmas. I will be also visiting them again on New Year's Day to ensure they start the year knowing that someone loves them and cares for them," Medford said.