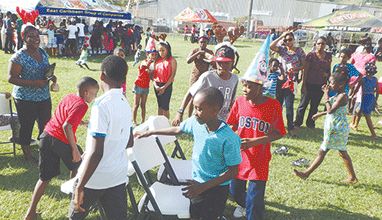 ECGC Children's Christmas Party
ECGC's Children's Christmas Party returned for the third year at the ECGC's car park, Campden Park. ECGC, a leading manufacturer in flour, rice, animal feeds and aerated beverages, brought on the festive cheer and celebrated with its employees' children and grandchildren, on Wednesday, December 16, 2015.
The event, which began at 1:30 p.m., did not only feature the arrival of Santa Claus, but cartoon characters such as "Peppa Pig" and "Doc McStuffins". Almost 200 children were treated to delicious meals, party bags, gifts and entertainment, which included go-carts, a bouncing castle and face painting.
ECGC continues to focus on the part of the nation that matters most – the lives of its children. The company ensures that their employees' children receive a gift and enjoy themselves, as there is a lot of pressure on parents to purchase gifts, particularly toys for children.
With all the fun activities, the children had a fantastic time. It was the perfect way to celebrate with the children during this festive season.