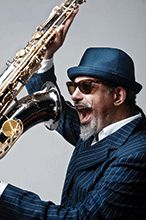 Arturo Tappin Band headlines 13th Bequia Mount Gay Music Fest!
It's just about two weeks until the Bequia Tourism Association's Bequia Mount Gay Music Fest kicks off its 13th anniversary four-day music-filled weekend in Bequia, January 21 to 24.
Performing Saturday night, headliner Arturo Tappin Band will be joined on this year's thrilling programme of daily and nightly events by the Mustique Blues Festival, appearing exclusively in Bequia on Friday, January 22, Pretty Boy Records with special guests Ch'An, Tobias & Lennox on Saturday night, and St Vincent's own Denzil Bacchus and his Blues Band, plus UK blues slide guitar sensation Martin Harley and Music Fest legend Toby Armstrong on Sunday. Trinidad's OMG the Band with Fya Empress and Tony Prescott will then close out the weekend with the Mount Gay Grand Finale performance late on Sunday afternoon.
Opening honours for the Music Fest go to the Frangipani Hotel, where the fabulous 13-piece Elite Steel Orchestra from St Vincent will perform on Thursday, 21 January from 9 p.m. Then, on Friday, 22 January, thanks to Basil Charles, the Bequia Mount Gay Music Fest once again welcomes the Mustique Blues Festival to Bequia for one night only. The American Blues Band and guest artistes Joe Louis Walker, Ian Siegal, Zac Harmon, Gregg Jackson, Deanna Bogart, Todd Sharpville and Jimmy Z will guarantee another superb night of entertainment dedicated to the blues at its very best.
On Saturday 23, from 12.30 p.m., the Bequia Beach Hotel in Friendship will be the venue for a hot and cool "Afternoon Jam by the Beach", featuring visiting and locally-based musicians from SVG, with Canadian country songbird Leisa Way, the Country Relatives from Bequia, the Bequia Blues Band, the Bacchus Band with "Patches" Knights and the Honky Tonics Jan & Louis, among the many performing groups and artistes. It's a chilled afternoon of music in the hotel's beautiful gardens and best of all – admission is free!
Saturday night is Music Fest "fete" night at De Reef. K-Netik from St Vincent will be opening the show with a selection of soca and reggae to get the crowd going. Debuting in Bequia this year is Pretty Boy Records with special guests Ch'An, Tobias & Lennox. They will be followed by Saturday night's headliner – back in Bequia by overwhelming popular demand – the Arturo Tappin Band! For those who still want to party on, DJ Shatta will continue until…
The ever-popular Music Fest "Sunday by the Beach" at De Reef in Lower Bay is guaranteed to see huge crowds flocking to see a wide variety of acts, including the Bequia "Kids on Pan" Steel Orchestra, the Denzil Bacchus Blues Band and the Bequia Blues Band, plus the extraordinary UK blues guitarist and singer Martin Harley, and Barbados guitarist Toby Armstrong. OMG the Band with soca sensations Fya Empress and Tony Prescott will bring the weekend to a high voltage close at the massive Mount Gay Finale.
Tickets for all shows are on sale at Quik Print in St Vincent, and in Bequia at the Bequia Tourism Office, Lina's Delicatessen, De Reef, Bequia Beach Hotel, Bequia Technology Centre, Vintages and the Frangipani Hotel.
Tickets prices are EC$70 for advance single night tickets (EC$85 on the door). Tickets for Sunday afternoon are EC$40 (EC$50 on the door). An advance "weekender ticket" for all three ticketed events is available for a bargain EC$165. Admission to the Frangipani on Thursday and to the Live Music Jam by the Beach on Saturday afternoon at the Bequia Beach Hotel is free.
The Bequia Mount Gay Music Fest is only possible because of the enthusiastic support it receives from local businesses. Apart from Title Sponsorship from Mount Gay Rum, the event also receives Gold Sponsorship from LIME and the Bequia Beach Hotel and Silver Sponsorship from the St Vincent Brewery (Hairoun). Additional sponsorship is generously provided by the SVG Ministry of Tourism/SVG Tourism Authority, Air Adelphi, Frangipani Hotel, De Reef, CRS Music & Media, (Barbados), Admiralty Transport Co Ltd, and Quik-Print (St Vincent).
The Bequia Mount Gay Music Fest is also kindly supported by Basil's Bar Mustique, Nice Radio, Mountain Top Springs Water, Julie's Guest House, Mac's Pizzeria, Vintages Bequia (Agents for Mount Gay Rum), Bequia Technology Centre, WAG Service Station, Nichols Garage St Vincent, Compass Publishing, Outhouse Graphics and The Vincentian, The News and Searchlight newspapers.
For more information visit www.bequiatourism.com/bequiamusicfest and www.facebook.com/bequiamusicfest