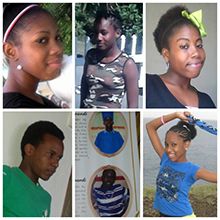 Anniversary of Rock Gutter Tragedy next week Tuesday
A series of activities will be held next week in Fancy to mark the first anniversary of the Rock Gutter tragedy.
On January 12, 2015, seven children, on their way to school, perished when the minivan in which they were travelling plunged off the road in an area known as Rock Gutter, into the Atlantic Ocean.
To commemorate the tragedy, next Monday, January 11, a candlelight vigil will be held at Rock Gutter from 9:30 p.m. to midnight.
The following day, January 12, two wreath laying ceremonies will take place at 11:30 a.m. and then at 12:45 p.m., the first taking place at Rock Gutter, the other at the Fancy Cemetery.
A memorial service will also be held next Tuesday, beginning at 2 pm at the Fancy Playing Field.
The bodies of Rochelle Ashton, 18, Jamalie Edwards, 14, Jamal Edwards, 12, Glenroy Michael, 12, and Anique Alexander, 11 were recovered from the sea, while Simonique Ballantyne and Chantacia Stay are still unaccounted for.