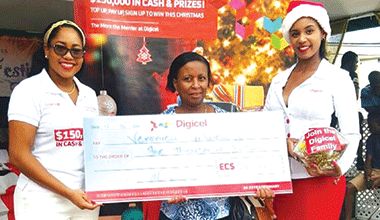 Hundreds win in Digicel's Christmas promotion
Digicel ended their $150,000 Christmas promotion, dubbed "The More the Merrier," on December 24 with a bang, as they gave five lucky customers $5,000 each on Christmas Eve. Digicel held their grand prize draw in Heritage Square, as they invited 40 finalists, the media and the general public to witness the extraordinary presentation. 10 finalists in each category stood a chance to walk away with their share of $25,000 cash! The categories in which they qualified were Top Up $10 or more, activate a data plan, pay your postpaid bill in full and on time or simply join the Digicel family. The December Text to Win prize was also $5,000 cash!
Throughout the weeks, beginning on November 20, Digicel made three lucky winners happy every day, leading up to the grand prize draw, by granting Christmas wishes and giving away up to $2,000 cash every day! The grand prize winners were Gilbert Stay, Skakinah Richardson, Veronica Mercury, Susan Nicholls and Kenville Innis, who all walked away on Christmas Eve with $5,000 cash, compliments Digicel. Marketing executive Danielle Cupid stated, "Christmas is definitely the happiest time of the year for us at Digicel; we truly look forward to making our customers' lives easier and their Christmas merrier. The wish aspect was the most rewarding for me, as we saw the joy as people received what they truly wished for from Digicel this Christmas. Customers have always requested that they want to see more winners and in the 2015 Christmas promotion we have seen the most winners out of any single promotion Digicel has brought to its customers, hence the reason it is dubbed 'The More the Merrier'. We look forward to developing more exciting and innovative promotions in 2016."
Digicel also contributed gifts and books to several Christmas parties in St Vincent and the Grenadines. The Fantasy Ent Team collaborated with Digicel to contribute books to the SVG Coast guard's Christmas Party, along with the party done for kids in the South Leeward area. Digicel truly made 'the more the merrier' a reality this Christmas.