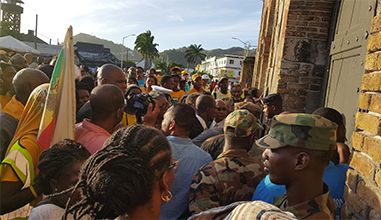 Exeter's arrest sparks unrest among crowd on Kingstown streets
Members of the New Democratic Party (NDP) walked out of the first session of the 10th Parliament on Tuesday, December 29 to be greeted by utter chaos and the news that a candidate of their party, Benjamin Exeter, had been detained by the Police.
Reports are that Exeter was part of the protest action taking place outside the House when he was approached by police who found him to be in possession of a firearm. A tussle ensued and Exeter was arrested, even though the firearm he was carrying was licensed.
On leaving Parliament, the NDP contingent, led by their party leader Arnhim Eustace, was greeted and booed simultaneously by hundreds of NDP and ULP supporters who converged and in some instances intermingled in the streets outside of the High Court in Kingstown.
The NDP supporters, in solidarity with their party's decision not to accept the newly elected Government, and the ULP supporters, showing support to the Government and Prime Minister Dr Ralph Gonsalves, created bedlam outside Parliament that eventually spread to Bay Street in front the Central Police Station.
One woman told Eustace and SEARCHLIGHT that she saw what had transpired between Exeter and the police officers. Supporters of the NDP shouted to the woman not to allow SEARCHLIGHT to record her statement, but she commented, "I don't care is Barrouallie me come from and me vote for Exeter."
She said that earlier, the ULP's Julian Francis suggested that the two sets of supporters be separated and when Prime Minister Dr Ralph Gonsalves arrived, different segments of the crowd erupted into boos and cheers at the same time.
"At one time I saw a policeman from Spring, I know him, he name Jacko, he go to Exeter and tell him to move and Exeter held out his hands and say 'Lock me up' and the man determine he nah move and he ah say 'mister, move' and he shove the man and the man turn around and he shove him back and from time that he and a whole load ah them start terrorize the man," said the eyewitness.
She further stated that "a small youth man" was recording the incident.
The "youth man" referred to is also charged in relation to the same incident. He is 17-year-old NDP Young Democrat Shabazzah GunMunro George. George was recording Exeter's arrest when he was approached by police officers.
He now has to answer charges of obstructing a police officer and for having in his possession an offensive weapon. It is alleged that George was found with a Taser (stun gun or zapper) when he was detained at the Criminal Investigation Department (CID).
The irate woman said that the incident was disturbing, as Exeter appeared to have received injuries to his mouth from the incident with the officer. Other persons interjected, claiming that the politician was also manhandled before being hauled off.
"To me that's the height of wickedness … the man [Ben] nah do nothing."
NDP members, led by Eustace, proceeded to the Central Police Station and were followed by a huge mass of NDP supporters. Eustace and his entourage were allowed to enter the police barracks, as the huge crowd erupted in jeers and chants.
One man shouted for Exeter to be freed, while one shouted for the angry mob to storm the barracks, at which time a pushing match between civilians and police erupted, but eventually died down as the chain of policemen held firm.
One man was slapped by a police officer and issued threats, while being held back by other protesters, while a protester physically lashed out at a policeman who was attempting to take his photo. At one point, an NDP supporter identified a police officer in the vicinity of the Financial Complex who was involved in the Exeter incident and as the angry mob began focusing their attention on the young officer, he eventually fled the scene, running into the Barracks, surrounded by other officers who ran with him.
Individual squabbles took place in the melee and journalists on the scene were not spared insults and threats. One man commented that the journalists who were recording the incident were lucky that he didn't have his knife, while another man threatened to smash cameras.
At one point Eustace emerged from the barracks and addressed party supporters, encouraging them to stand firm through peaceful protest. He said that they were trying to get medical attention for bruises on Exeter's face.
"He said he was struck by a police officer," said Eustace, as persons commented that the NDP Leader should not answer questions from journalists.
Exeter was released on station bail hours after he was arrested and was greeted by party supporters outside the barracks. He appeared at the Kingstown Magistrate's Court the following day (Wednesday, December 30) where he pleaded not guilty to charges of assaulting police officer Cuthbert Morris, resisting arrest and assaulting Granville DeFreitas, causing actual bodily harm.(LC)