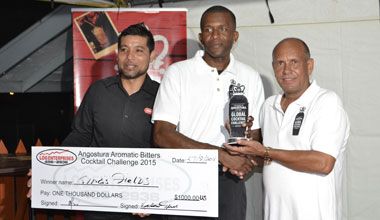 Fields mixes his way into regional bartending competition
Having recently won the local leg of an international bartending competition, a father of five will go on to the regional leg in the hopes of making it to the finals — and a chance to win US$10,000 and an 18-month contract.{{more}}
Friday, August 28 saw King Fields, a bartender at Chill Spot Bar and Grill, fend off four other competitors to walk away with US$1,000 and an all-expenses paid trip to St Maarten in October to represent St Vincent and the Grenadines at the regional stage of the 2016 Angostura Global Cocktail Challenge.
This being the third consecutive time that he has won the local leg of this competition, Fields said: "It's an achievement that I wanted to have all along.
"It's not just for me alone – it's for my work place, Chill Spot, my kids, my girlfriend… it's so overwhelming for me right now. I know I made a few mistakes, but in the regionals, I am going to do much better than this."
Fields also said that this is the last year that he will be participating in this competition, because he will be taking up a new post as local brand ambassador for the Angostura brand.
To gain the judges' nod, Fields made 'Honey Nature Rose' (an original cocktail) and 'Nice Stiff Drink' within the allocated seven-minute time limit.
Second place was taken by Kevin Brown, who made 'Vodka Special Martini Blue' (original cocktail) and 'Angostura Colada'. Third place went to Jason Legair – the youngest competitor at 22 years old – who made 'Paradise Beach' (original cocktail) and 'The Ginger Man'.
Angostura marketing development officer Ricardo Aquing congratulated the winners and encouraged them and those who work within the field to think of the "bigger picture" in regard to this competition.
He said: "The bigger picture here is to encourage the younger folks… to showcase not only Angostura's products, but the general trade – the raft that goes into it, and the time and effort… It's not only mixing a drink behind a bar, but it can be made into a very lucrative career. The sky is the limit!"
Minister of Tourism Cecil McKie, congratulated the winner and those who participated, in addition to the sponsors (LOG Enterprises and Angostura) and all other persons who made the event possible.
"Persons participating in the competition, it gives them an opportunity to showcase their talents… to show that they are as good as other bartenders in the region… it gives us a chance to showcase St Vincent and the Grenadines," McKie said.
The regional finals on October 31 will give Fields the chance to win US$3,000 and all expenses paid to participate in the international final that will take place on Carnival Sunday, during Trinidad's Carnival season in February, 2016.
The winner of the international final will receive US$10,000 plus an 18-month contract to be an Angostura Brand Ambassador working within the region.
The other participants in the competition were Marsha Williams and Desron Lavia. (JSV)