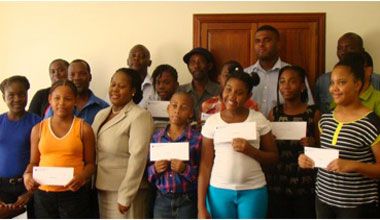 CWSA awards scholarships, bursaries to students
The Central Water and Sewerage Authority has once again awarded scholarships and bursaries to 10 deserving students whose parents are employed at the Authority.{{more}}
Five students were awarded full scholarships for a seven-year period up to the college level. Another five were awarded one-off bursaries, as the Authority recognizes the efforts made by these students in passing the CPEA examination.
The five students awarded full scholarships are Gariel Matthias, Jonisha Forde, De'Ontrelle Roberts, Mirac Creese and Tiffanie Chapman and the five students awarded bursaries are D'Mitri Power, Faynesha Peters, Skeshorna Hamilton, Maxian Browne and Deondre Sutton.
The Central Water and Sewerage Authority is committed and dedicated to the educational advancement of both its staff and their children, hence the reason this scholarship programme has become an integral part of the programming of the Authority.
CWSA wishes to congratulate all students for their educational achievements thus far and wish them every success on their upcoming journey.