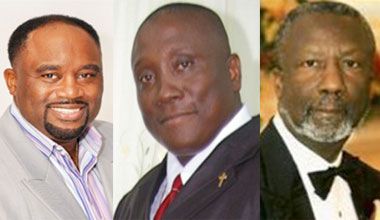 Christian Life Ministries hosts eighth Biennial Convocation
Christian Life Ministries (CLM) of God's Battalion of Prayer Ministries International is presently hosting their Fellowship's 8th Biennial Convocation 2015 at the Calliaqua playing field and the Christian Life Ministries church at Glen/Calliaqua.{{more}}
It is the first time that this event, which runs from July 20 to 26 and brings together all the churches of the Battalion Ministries, is coming to St Vincent and the Grenadines. Delegates are coming in from Guyana, South America; Nigeria, Africa; Bronx, Queens, Brooklyn, New York; Wilmington, Delaware and Illinois in the USA.
The 2015 Convocation's emphasis is on Evangelism Outreach and Discipleship; thus the following events are part of the schedule:
– Vacation Bible School which runs from the Monday, 20 to Friday, 24 July from 8:30 a.m. to 12 noon at CLM.
– An Evangelism Seminar with international evangelist Fred Felton, on Wednesday, 22, 7 p.m. at CLM.
– The Convocation official opening/crusade will take place on Thursday, July 23 at the Calliaqua Playing Field. Bishop Kenrick Corbin will minister on the opening night. The Crusade continues through Saturday night at 7 p.m. nightly.
– There will be a Men's and a Women's Conference on Saturday, July 25 from 9 a.m. to 12 noon, Fred Felton will speak at the Men's Conference.
– The Convocation will conclude with Sunday School and communion service, on Sunday, July 26. Bishop Alfred Cockfield, the presiding bishop of the Battalion, will minister the word on Sunday, as the Convocation comes to an end.