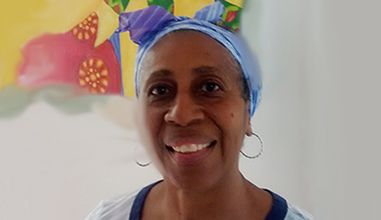 Vincentian artist's artwork to feature at 2015 Pan Am Games
A piece of artwork by Vincentian artist Camille Saunders-Meusser will be featured by the Textile Museum of Canada, in partnership with the Toronto 2015 Pan Am Games.{{more}}
Her watercolour will be part of 'Watercolour', a cultural project, which will comprise 41 sails, featuring artwork by one artist from each country participating in the Pan Am Games.
Encompassing work from internationally renowned to emerging and mid-career artists, the designs will animate sailboats on Lake Ontario with their rich visual diversity during ceremonies at the Toronto 2015 Games.
Celebrating its 40th anniversary in 2015, the Textile Museum of Canada's award-winning work with contemporary artists and global cultural traditions informed the project.
"Sails are among the most ancient and most iconic expressions of textiles in everyday life," says Textile Museum of Canada executive director Shauna McCabe.
"Transcending space and time, sails make perfect sense as a way to communicate what we have in common – the universal experiences and imaginations that inspire everyone – artists to athletes – to achieve their dreams."
Together the designs on the sails speak to shared environments and ways of life, as well as cultural and artistic relationships between Pan Am countries.
Watercolour showcases some of the leading contemporary artists of the Pan American nations and has already garnered international attention.
Saunders-Meusser told SEARCHLIGHT that she is "very excited, proud and extremely happy" to be asked to represent her homeland at the Pan Am Games.
"It was completely unexpected. On my birthday I opened my email and saw an email from the Textile Museum of Canada asking me for permission to use the image of my painting titled 'Carnival' in the project, which is called Watercolour.
"What a huge surprise it was! Best birthday gift yet!" she enthused.
Scheduled sailings on Toronto's waterfront are July 12, at 11 a.m. and July 19, at 5:30 p.m. (weather permitting).