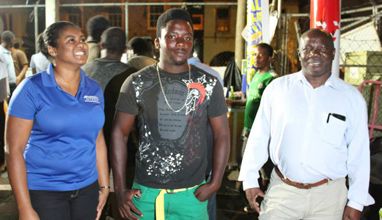 Digicel customer overjoyed at winning Valentine's Day promotion
Lowman's Hill resident Natasha Abbott revealed that when she heard she was a finalist in Digicel's Valentine's Day promotion in which she could win a car, she was 'shocked' and thought that her chance of winning the car was very slim.{{more}}
Despite her lack of confidence, Abbott is now the owner of a Suzuki Swift, as on Friday, March 13, during Digicel's Valentine's Day promotion finale, the lucky young lady picked the right key, started the car and drove away with it.
"I am very ecstatic about it; I'm very excited, you name it, you describe it, I am that person," said Abbott after winning the car.
On Friday, Abbott and the other finalists, Elrias Williams of Cane Grove and Andrew Campbell of Barrouallie, were asked to come to the Coreas car park on Bay Street, after being chosen during a random draw (witnessed by KPMG) to take part in the finale.
The trio had, during the life of the Valentine's Day promotion (from February 4 to March 13), texted "CAR" to 1130.
On arrival at the car park, the three finalists were asked to search the crowded car park for three Digicel models and retrieve a key from them. The keys that they took from the Digi Girls each had numbers and those numbers were then matched to a box containing another key. The finalists were then asked to try this second key and the one that started the car would win the prize.
Williams' key opened the car door, but did not start it, while Abbott's key opened the door and started the car, allowing her to take the top prize.
The elated lady, who works at Aeropost, did not wait. Screaming, she jumped into her new vehicle and drove it off the platform with her workmate in the passenger seat.
"I was overjoyed when the car started. I thought the chance of me winning was very slim, because it was three of us, but I had faith," said Abbott, who has been with Digicel for a very long time, as both a prepaid and post-paid customer.
She said that she is extremely grateful to have won the vehicle, as she has a licence, but did not own a car before Friday.
"Thanks to Digicel for offering me this opportunity, because if it wasn't for them, I would not be able to drive away with a new Suzuki Swift," stressed Abbott.
Marketing manager at Digicel Juno DeRoche said that Digicel's latest giveaway, as many giveaways before, was aimed at enriching someone's life.