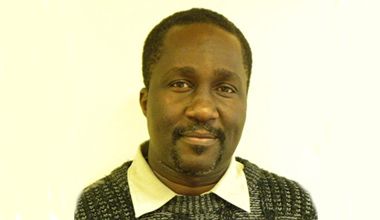 Vincentian appointed full-time professor in Massachusetts
Vincentian educator Colin Adams has been named a full-time sociology professor at Berkshire Community College (BCC) in Pittsfield, Massachusetts.{{more}}
The annoucement was made by Frances Feinerman, BCC vice-president for academic affairs.
Adams joined BCC as an adjunct professor in 2006 and served briefly as the interim director of Center for Teaching and Learning. In 2012, he was named an assistant professor of sociology.
Prior to working at BCC, he was a national disaster coordinator for the Government of St Vincent and the Grenadines and as sociology instructor at St Vincent and Grenadines Community College, West Indies.
He began teaching sociology in California at LA Mission College and at Citrus College. He also worked for Fuller Theological Seminary in California, where he coordinated services for disabled students and student satisfaction surveys.
"Colin's work as instructor at BCC mirrors his earlier efforts combining sociology with practical community applications. He teaches students to do the same," said Feinerman. He is a dedicated educator – both in and out of the classroom. He has consistently provided Service-Learning opportunities for his students. He has also coordinated work with students in support of the goal of the Commonwealth's Vision Project to reduce achievement gaps of diverse student populations."
Adams's professional association memberships have included: the Eastern Sociology Society, the American Sociological Association, the International Visual Sociological Association and the Association of Higher Education and Disability.
He earned a bachelor's degree in Social Work and master's degree in Sociology from the University of the West Indies in Kingston, Jamaica.
Adams resides in Pittsfield.
Berkshire Community College (BCC) is a public, fully accredited, community college, offering associate degree and certificate programmes, as well as various other educational opportunities, primarily to the residents of Berkshire County and surrounding areas. Visit BCC online at www.berkshirecc.edu