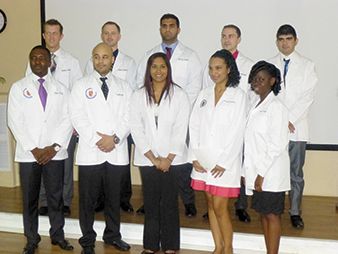 Trinity's 2015 Spring intake includes three Vincentians
Two Vincentians were among the 16 students who were part of the Trinity School of Medicine White Coat Ceremony, held on January 10, 2015 for the Class of 2018.{{more}}
Dumona Charles and Janelle DaSilva are part of the Class of 2018, while Charadin Frank, joined the student body in the pre-medicine programme.
Presiding over the ceremony was Dr Douglas Skelton MD, dean and chancellor of the School, who reminded the students of the ceremony's importance in the life of every doctor. The future doctors were then welcomed by Sir Frederick Ballantyne, Governor General of St Vincent and the Grenadines, and by Steven R Wilson, president and CEO of Trinity.
A video presentation by former students, entitled "Words of Wisdom," offered the Class of 2018 insight into their experiences and gave pertinent advice. They heard that, "After the White Coat ceremony, everything happens so fast. There are mixed emotions: you feel timid, yet excited. You knew what was ahead was going to be a challenge" and "You just have to keep pumping through, and more and more your hard work will pay off – always!" among others.
The history and significance of the White Coat was detailed by Dr Paula Wilson, MD, MPH, associate dean of Admissions, in which she reminded all that the placing of the White Coat on each student's shoulders is an expression of Trinity's faith in their ability to move from the short medical students' coat to the longer coat of the doctor. Then, Dr Frances Jack, associate dean of Students, in her welcome, quoted Hippocrates when she told them, "Whenever the art of medicine is loved, there is also a love for humanity." The students were then robed in their white coats.