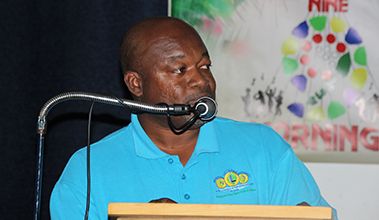 NLA to host parang soca monarch competition for Nine Mornings 2015
Come Christmas 2015, Vincentians will see another feature added to the already popular Nine Mornings festivities, a parang soca monarch competition.{{more}}
Product Development manager of the National Lotteries Authority Anthony Dennie announced last Saturday that efforts to host the event last Christmas had to be shelved because of the short period of time on the calendar to produce a successful competition.
Speaking at the Peace Memorial Hall at the awards ceremony for individuals and groups that won various categories of the Nine Mornings activities, Dennie said he believes that the 2015 festival will be bigger and better with the addition of the competition, which he said will soon be in the planning stages.
"It is just saying thanks for the wonderful music that our artistes have been putting out year after year, giving us that opportunity to experience our own unique Vincentian Christmas."
Dennie commented on the high quality of local Christmas songs that have been produced over the past years, and credited prominent entertainers like Carlton "CP" Hall, Rondy "Luta" McIntosh, the Bowmans and others for the music, which has, in some cases, replaced some traditional Christmas songs on the airwaves.
"The National Lotteries Authority, we stand committed towards the Nine Mornings festival here in St Vincent and the Grenadines."
The NLA contributed $150,000 to the hosting of the festival this year, with Dennie indicating that the figure could improve with the support of persons who patronize the games hosted by the NLA.(JJ)