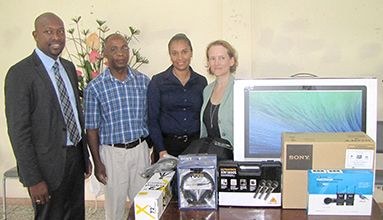 Ministry receives new equipment
The Ministry of Agriculture on Tuesday, December 9, received new technical equipment courtesy the Caribbean Aqua-Terrestrial Solutions (CATS) programme, operated by the German Development Cooperation.{{more}}
The equipment, valued at US$12,000 includes: one Sony NX camera, one tripod, one Imac and a microphone system.
Principal adviser for Caribbean Aqua-Terrestrial Solutions (CATS), Eva Naher speaking during the handing over said the dissemination of information to the nation's farmers is of utmost importance and she was pleased to lend the assistance to the Communications Unit.
"If you have important information, we have to get that information to the farmers out, because if you have training with a group of farmers, there might be others who are interested as well…
"So we want to share the practices, the knowledge and the information about this project and hence the reason why we are focusing on this collaboration with the Communications Unit in the Ministry of Agriculture so that there are tools to inform everyone about what is going on and how the individual farmer can improve his situation," Naher said.
Minister of Agriculture, Saboto Caesar, in thanking the donors, urged the staff of the Communications Unit to ensure that every second of air time be utilised to spread information to the farmers in a timely manner.
"The farmers are very happy that the information is coming in a very efficient and efficacious manner and I am certain that with these additions that the Communications Unit, that they are going to continue to do excellent work.
"I could say thanks to the donors and also say that these are not going to remain unused in the Ministry of Agriculture. They are going to be used and the farmers are going to benefit significantly. We are going to use them to spread information about agriculture and also to spread critical information about climate change," the Agriculture Minister stated.
Component one of the Adaptation to Climate Change in Agriculture and Forestry project was launched on the same day, Tuesday, December 9, 2014.
The project is being carried out under the Caribbean Aqua-Terrestrial Solutions (CATS) programme, operated by the German Development Cooperation.
It focuses on adaptation measures to climate change in agriculture and forestry and a "ridge to reef" approach with activities in the Marriaqua valley.