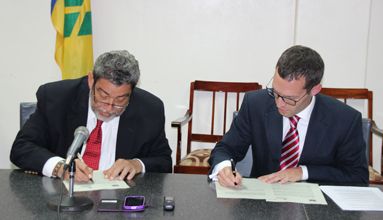 SVG, UK sign Letter of Intent
A Letter of Intent, signed on Monday between St Vincent and the Grenadines and the United Kingdom, will see the two countries forging ahead with collaborative relations, past the end of the 2015 Millennium Development Goals.{{more}}
Prime Minister Dr Ralph Gonsalves, representing the Government of St Vincent and the Grenadines and Hugh Walker of the UK's Department For International Development (DFID), signed the two-page document, which highlighted areas where the two countries would be working closely to better deliver shared development goals, beginning next year, until 2020.
Walker attended the signing in place of Minister for International Development Desmond Swayne.
The areas identified for further development were the strengthening of the private sector, in an effort to induce economic growth and improving workforce skills; increasing energy security, including both renewable energy and improved energy efficiency; and thirdly, disaster risk reduction, including increasing the resilience of health care facilities to natural disasters.
Prime Minister Gonsalves said that the agreement is expected to build on the work that is currently being done between the UK and the region through the Millennium Development Goals, which come to an end next year.
He pointed out that though the UK partners with the region on a whole, the areas identified in the document were customized to meet the specific needs of St Vincent and the Grenadines.
"Clearly, we can't do everything, so the bilateral relationship between the UK and the Caribbean has to have its own particular dimensions.
"We do a lot of work together with the United Kingdom Government in relation to crime, sharing of intelligence information and a lot of work in the area of reforming criminal laws and strengthening the judiciary… and what is happening here between DFID and the Caribbean will continue at the United Nations in the post 2015 Millennium Development Goals conversations…."
Walker, who had been to other countries in the region for similar engagements, said that the United Kingdom is happy to be involved in the continued development of the region, which he said would pump up to $75 million into the region over the term of the agreement.
"It's an event that has been long coming. We worked very hard with your officials and your government to prepare for this moment and I think for us, it signals a long-term commitment to the region," the DFID director said.
"As you know, we've always been present in St Vincent in some form. We were here for you in the floods…. I will hopefully visit the Smart hospital, which we've helped strengthen in Georgetown.
"We believe that regional integration is absolutely essential to the region and we would continue to work on that, but we recognize also the challenges that you face in the islands are very different island by island and we want to work more closely with certain islands on that," he added.(JJ)