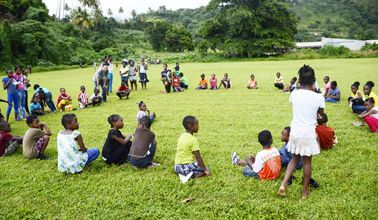 RVA hosts 'Open Day' for kids in community
The Richmond Vale Academy (RVA) has once again opened its doors to children from the communities of Fitz-Hughes, Chateaubelair, Petit Bordel, Rose Bank and Troumaca, to teach them about healthy living.{{more}}
The Open Day, which had over 130 children in attendance, was organized to engage children in the communities surrounding the school and in doing so, give them an opportunity to be taught about healthy living, to interact with other children from different areas and have fun in the process.
The day began with a short walk from the community of Richmond to Chateaubelair and back, followed by several games and sporting activities. There were also different drawing and colouring activities, after which the children were treated to different types of fruits grown on the RVA farm.
"I think it is nice for the kids to meet and gather with so many other kids from different areas, where they can do something different and be in a different environment and learn about healthy living, new games and or skills," said David Kerkhofs, lecturer at RVA.
The Richmond Vale Academy (RVA) is a registered non-profit organization under the Companies Act in St Vincent and the Grenadines. RVA teaches local and international students about the importance of Climate Compliance and how to fight against poverty.
The RVA is also encouraging Vincentian nationals who are interested in learning about their "Climate Compliance Conference" and "Fighting Shoulder to Shoulder with the Poor" programmes to contact the school for more details.