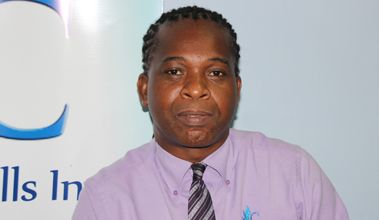 Coreas Hazells and ACE launch series of Christmas promotions
Television sets, a fridge full of food, free cable television and of course, cash, are among the prizes to be had this year, as Coreas Hazells and ACE launched a series of Christmas campaigns, which got into high gear this week.{{more}}
At a media launch on Tuesday at Coreas Hazells headquarters in Kingstown, senior Coreas officials announced the promotion plans, which Ezzie Roberts pointed out could be valued at more than $100,000 for customers.
Roberts informed the media that one promotion called "Coreas Christmas," which runs from November 20 to January 2, would see customers spending over $50 per purchase, winning a range of weekly prizes, and being in contention for a grand prize.
"We will be having weekly draws and at each draw, we will be having persons winning 32-inch flat screen television sets. We will be giving away nine such sets and a grand prize of one 55-inch flat screen television set.
"We will also be having additional prizes of 10 $500 gift vouchers, 150 persons would be winning $100 gift vouchers, and we would also be giving away weekly hams, wines and Carib Beers.
"And additionally, we have partnered with Flow on their promotion and our promotions… so we will be giving away a number of prizes from Flow: a three-month package of the Turbo Ten; five persons will be winning these, and also the Starter Video package; we have five persons winning these, and the Optional Package; another five individuals will be winning these," Roberts announced.
Roberts said that for every $50 spent, up to $250, customers will receive an entry form to fill out and deposit in boxes at various Coreas/Ace outlets.
The grand prize draw will take place at an activity to be held at the Coreas car park.
Roberts also revealed that another promotion, dubbed the "Eve Fridge Full of Food and Drinks" promotion would run concurrently with the Christmas campaign.
"Eve is a major brand of Coreas Hazells Inc. We carry a wide variety of food products and we believe that the consumers who are purchasing these products should be rewarded for doing so.
"To enter this promotion, you simply have to place five different Eve labels in an envelope, put your contact information and place it in a separate box provided at the various outlets."
The event began on Monday this week and ends on December 31, with a grand prize draw of a seven cubic foot refrigerator, loaded with food and drinks.
Not to be left out, Divisional manager of Ace, Ace 2 and Coreas Express Mart Debbie Huggins announced that these locations would be having promotions of their own, which would coincide with the overall campaign.
"At Ace and Ace Two, we usually do quite a bit every Christmas and this year is no exception," Huggins pointed out.
"We have our 20 per cent off paint, tiles, windows and doors, and this promotion has already started and will continue until the end of the year.
"We also are promoting a brand of paint called "All Coat." It is the lowest priced paint in SVG; we are selling it at this moment with the 20 per cent, meaning that the paint price will even be a lot lower.
"In terms of the Coreas Pharmacy, we will be opening late in the December month and running a number of specials… so we are inviting the public to come in…."
Huggins also announced that a two-day session with senior consultant Roger Braithwaite, dubbed "Sissons in the House," was scheduled to take place on Thursday and Friday this week at Ace and Ace 2.
"At this time of the year, we believe it is also a period where we should be giving to our customers," Roberts said.(JJ)