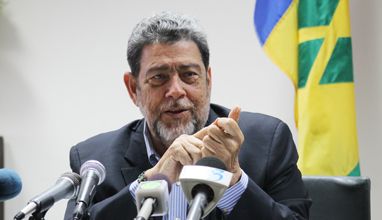 No money from Treasury would be used to assist WICB – PM
Prime Minister Dr Ralph Gonsalves has declared that he has no intention of taking money from the Treasury of St Vincent and the Grenadines to assist with resolving a US$41.97 million claim brought against the West Indies Cricket Board (WICB).{{more}}
Gonsalves was speaking at a press briefing on Monday, when he also stressed that he is not suggesting that other countries in the region reach into their pockets either.
The claim in question is being made against the WICB by the Board of Control for Cricket in India (BCCI) and is a result of the pull-out by West Indies cricketers from the Indian tour in October.
Since then, Gonsalves has taken several steps to assist with finding a resolution to the problem.
"When I said that I would be working to help with a resolution, for some strange reason, that metamorphosed that I will take money from the Treasury of St Vincent and the Grenadines and ask other countries to do so," the Prime Minister said on Monday.
"I explicitly said no, that is not on the cards. But you know, because Ralph got involved and he's playing a leading role in this matter, what you have to do is tarnish his role by going to an absurd position and the strange thing, to sell that to the region where some news agencies actually believed that I said so when I never said so."
Gonsalves, who currently sits on the CARICOM bureau, stated that persons may be wondering why he is getting involved in the matter. He further explained that his interest stems from a number of reasons.
"If we are within a regional movement, national leaders have to take on regional responsibilities," he said.
"There was a premature termination. I am not going to get involved in who is to blame and who not to blame …I'm interested in the solution. One week passed. Nobody said or did anything in the region."
Gonsalves expressed his love for cricket and noted that the sport is existential to the spirit of Caribbean civilization.
As part of his plan to help resolve the situation, Gonsalves said he drafted a letter to the BCCI, which he sent to the secretary-general of CARICOM. The letter details a number of steps that can be taken by all parties involved in an effort to resolve the matter without a lawsuit.
"I will help in whatever way I can; but you know me already, you know once I get involved, I'm in touch with a number of people regionally and globally on this matter. And I'm in touch with people who are intimately connected with this matter outside of the Caribbean in addition to persons inside of the Caribbean and I have a clear idea as to what can be done towards a settlement," Gonsalves said.(BK)