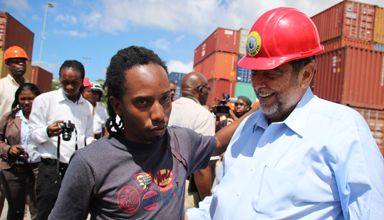 Gonsalves working on improving his health, calls out local comedians
Prime Minister Dr Ralph Gonsalves is hoping that his recent weight loss would "subtract" from the arsenal of mirth that local comedians have for use against him.{{more}}
On Monday this week, Gonsalves called out cartoonist Ken Dyer and comedian Shevrelle "Candy Man" McMillan, during an address marking the arrival of three aircraft rescue and fire trucks at the Campden Park Container Port.
"There is a fella in the audience. A fella who went in a carnival. He went on stage; you all know him," the Prime Minister said, in reference to McMillan's well received comedic presentation at the Miss SVG 2014 pageant.
"He says 'everybody is talking about chikungunya, but that there is a disease which is about the place called 'Pigingunya', that is to say elevated abdomens nuh….
"And this fella, this comedian, commentator, he said 'there are two levels of pigingunya: level one, type one de Comrade has that', and he showed the enlargement of the girth.
"'The second one, type two, he said that is [Leader of the Opposition Arnhim] Eustace, that is to say, the girth and the bald head, he put his hand on he head."
Speaking directly to McMillan who was at the function, Gonsalves opened his jacket to flaunt a reduced girth.
"Well, as you notice Candy Man, you can decide whether I am still suffering form pigingunya type one, you hear me?" joked Gonsalves.
"Because from May the first to now, is 40 something pounds I have dropped and I ain't finished, and I have to firm up otherwise."
The Prime Minister advised the comedian to consult with the Opposition leader with regard to his "condition."
"….Well I suspect that he could address the issue of type two pigingunya in relation to the girth, the other dimension which you spoke about you could ask your brother journalist who works at 705 how would he deal with his bald head, or you could ask [Senator] Jomo [Thomas].
"So, I want you to know that I am determined for you not to laugh at me again."
Gonsalves also noted that Dyer, a satirical cartoonist, has also made some amendments to his drawings.
"Yuh notice that recently he used to have the abdomen up to the neck, now he has to put it a little lower…." Gonsalves said, in good spirits.(JJ)