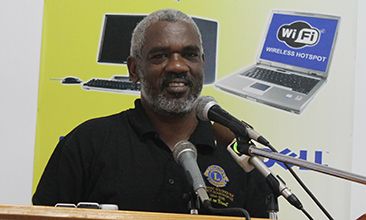 Six finalists chosen for Lions Club South/ LIME Secondary School Public speaking
After a week of zonal competitions, six finalists have been chosen to represent their respective schools in the 2014 installment of the Lions Club South/LIME Secondary Schools Public Speaking Competition.{{more}}
Junior Bacchus, chair of the planning committee, made the announcement yesterday, during a press briefing held by the Lions Club South.
Bacchus observed that 20 schools participated in the zonal competitions this year, possibly the largest participation they have had since the start of the competition.
The six finalists that will appear at the Methodist Church Hall for the finals on October 22 are Damali James of Bishop College Kingstown, Eric February of the Mountain View Adventist Academy, Gailesha Huggins of the Central Leeward Secondary School, Andrieka Samuel of the Girls' High School, Crislon Fraser of the St Vincent Grammar School and Shaiyeid Eunis of the St Joseph's Convent Marriaqua.
"We had our difficulties last year; we didn't have the public speaking, but it's a project that we've been doing for 23 years," Bacchus said, referring to a disagreement last year, with the Ministry of Education, over proposed debate topics, which resulted in the competition being cancelled.
"We have ironed out those difficulties with the Ministry of Education and our sponsor LIME came on board as usual and decided to sponsor this project with over $20,000."
The planning committee chair added that the winning school will receive $2,500 to improve their school in whatever way they choose.
The topic for this year's finals is: "Regardless of the title it carries, citizenship by investment, with all of its risks, is practised by many countries with great success. Do the opportunities outweigh the risks?"
Bacchus assured that the topic was discussed and agreed upon with the Ministry of Education, through chief education officer Lou-Anne Gilchrist.
The winner of the last public speaking competition, which was held in 2012, is Lexie Selman, who represented Bishop's College Kingstown.(BK)