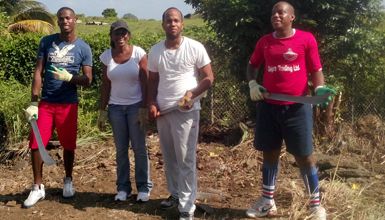 Roseau to get recreational park
Senator Luke Browne, Parliamentary Secretary in the Ministry of Tourism, Sports and Culture and founder of Luke's Kids Club, is working to transform an area of flat land in Roseau into a recreational park.{{more}}
On Saturday, September 27, Browne and a number of community volunteers teamed up to do some preliminary clearance of grass and debris at the site.
Speaking on Saturday while cleaning, Browne said that the process towards a recreational park began when he, a few years ago, took the initiative and converted what was a garbage dump into flat land, which was subsequently used for the storage of trailers, containers and other heavy equipment.
"I saw the potential of this place, and I plan to see the project through completion. We would have a very good facility here where people can come to relax", said Browne, who added that when finished, the area, which is owned by the Government, can be used for different forms of entertainment, including exhibitions, fairs and, "plain old relaxation sometimes after a hard day at work, along with other activities."
Browne, himself a resident of East Kingstown, is hoping to be able to install benches, swings and slides and to properly fence the area. There are plans for a designated picnic zone with trees for shade.
"When the project is completed, I'm hoping that members of the community will assist with the care of the facility," said Browne, who added that he is hoping that within a month (start of November) the area will be in usable form.
After the cleaning and clearing phase, Browne, who hopes to be the Parliamentary Representative for East Kingstown after the next general elections, stressed that he is looking to move into phase two and the Government is committed to having the area brightened and have already identified the work that needs to be done.
Browne said that after the heavy equipment is moved, the Ministry of Agriculture will be helping with the landscaping process, which involves the planting of flowers and grass.
Browne said that he is proud of the involvement of Luke's Kids Club volunteers. He noted that the volunteers decided, after the conclusion of the summer programme, to organize themselves into an entity that is involved in community service projects all year round. This is their first project.
Luke's Kids Club is a summer programme that serves annually over 1,000 children between the ages of 4 and 16.
Browne explained that the Kids Club is actually a component of the Light Hill Foundation that develops and supports initiatives at the community level.
Senator Browne said that initiatives like the recreational park help to build community spirit, while making sure the social fabric of the community is intact.
"There are a number of volunteers here today (Saturday) cleaning up and clearing. We are keen on developing this community," said Browne, who revealed that they have identified similar projects elsewhere, including in Cane Garden, where they plan to do a playground project.
Bernadette Ambrose-Black (executive director of Invest SVG) was also on site helping with the clean-up process. She said that she is happy to be involved with the community development project and currently has project management responsibilities, not in her capacity at Invest SVG, but on a personal level.
"I have always been involved in sustainable community development projects and as such I was happy when asked to serve as a director for the Light Hill Foundation and project director for this project. I am also hoping to get involved in sustainable community development projects that integrate with various charities throughout the multi island state of St Vincent and the Grenadines," said Ambrose-Black.