Posted on
Young entrepreneurs launch marketing and advertising agency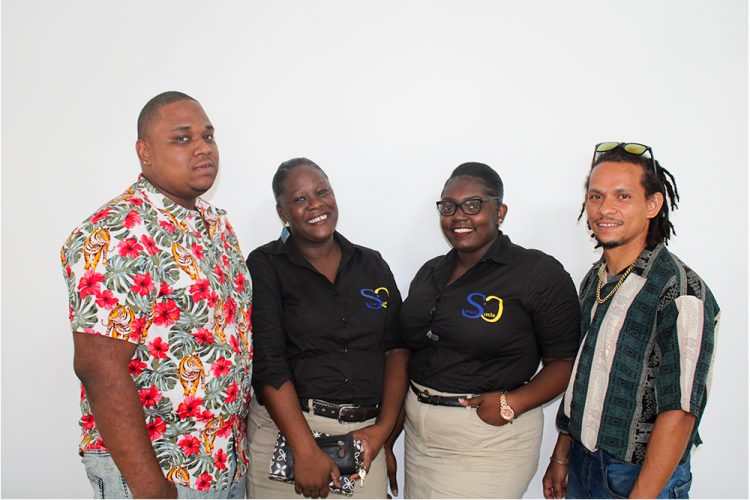 Young Vincentian entrepreneurs are hoping to boost the footprints of small businesses in St Vincent and the Grenadines through their marketing and advertising agency, Smart Circle.
The one-month-old business officially launched this week with a small ceremony at Stoney Ground.
"There has been a sort of influx of new businesses. A lot of persons have gone into doing their own hair, makeup, nails, IT. People in St Vincent are becoming very creative and innovative and sometimes, it's so difficult for them to get to the right audience, to get to the right people," Cheri Sergeant, Smart Circle's chief operating officer said.
Sergeant said that the company will provide comprehensive packages that incorporate both traditional and modern advertising via social media platforms.
The COO noted that while the company was started in mid-August, they have a team that is experienced in social media marketing and management, video production and editing and graphic design.
Smart Circle specialises in social media management, advertising and web design.
Cornella Collis, owner of the business and chief administrative officer said that Smart Circle is set apart by other companies through its affordable pricing, which caters to clients' needs.
She further encouraged businesses to invest in social media marketing, which will help to boost popularity and sales in the long-term.
"When you see people on their phones, they are on Facebook, Instagram, YouTube, Google so we're trying to boost the modern way of advertising products," Collis said. "To boost your social media presence, first you need to invest more on social media ads. There's Google ads, there's ads on YouTube, there's ads on Facebook, Instagram, even social media influencers."
The chief administrative officer also urged businesses to be more active on social media.
Smart Circle currently manages social media for four small businesses: Natural Aesthetics, Allied Homecare Services, Mama Products and Style Appeal Boutique.
The company's team attests to significantly increasing the popularity of these businesses online, which have resulted in increased sales.
The proprietor of Natural Aesthetics and Style Appeal Boutique also confirmed these results in a review video which was shown at the launch.
Other members of the Smart Circle team are photographer and editor, Theron Browne and videographer and editor, Darren Horne.
At Monday's launch, Horne said he has six years' experience in producing videos and three years' experience in social media management, in which time he has managed social media pages for brands and businesses like Hairoun, Vitamalt, Café Soleil and Digicel.
Browne said he has four years' experience in graphic design and video editing.
Persons interested in contacting the Smart Circle team may call 1784.430.2776 or email; [email protected]
[UPDATED on September 18, 2020 at 12:30 pm to clarify the business's ownership and correct the past experience of Darren Horne and Theron Browne]