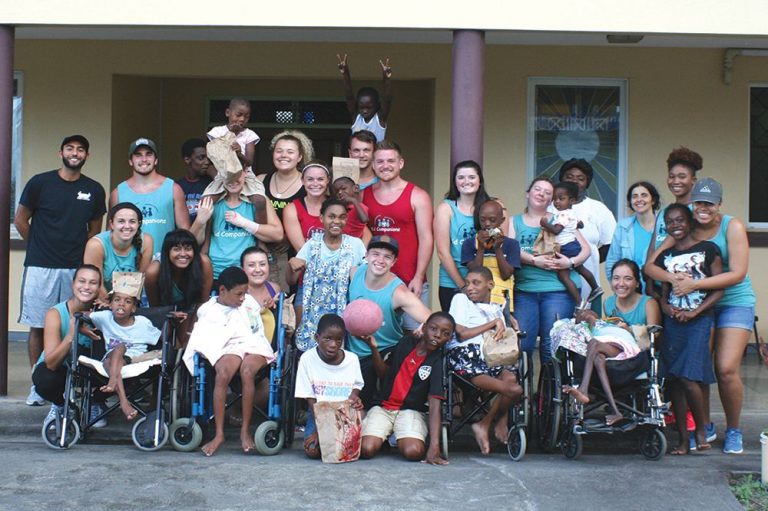 Local Vibes
April 16, 2018
St Benedict's Children Hunt For Easter Eggs With Trinity Kid Companions
The children of the St Benedict Children's Home and the Bread of Life Orphanage in Georgetown were treated to a brand new experience when the Trinity Kid Companions Club arrived on Saturday, March 24, laden with numerous shiny eggs, to conduct the Easter Egg Hunt.
As with each activity, they sat with their companions around a large table and with coloured pencils in hand, they decorated bags with their names and prominent patterns of their choice. Even as this was taking place, a group of companions had quietly gone to lodge the gleaming eggs around the park between the two facilities. They made sure that, with the sun shining on the eggs, it was not going to be too difficult for the children to find them.
Then, with all eggs installed, collection bags decorated and the rules of the hunt explained, the companions took their charges to the park to gather their bounty. Upon finding their first eggs, there were whoops of delight as they were excitedly tossed into the bags. The eggs, laden with candy, were then opened and squeals upon squeals of pleasure ensued.
In explaining the preparation and execution of the activity, companion Caylee Arcara called it an easy feat. "Preparing for this was rather easy," she said. "We had visiting relatives bring us the plastic eggs, then we got the candy to fill them and the bags to put them in." Caylee was ecstatic about being a companion to the children. "Being a companion to these children makes me feel really good, shed declared. "When we first began to interact with them and formed relationships, we could see that they were happy; so, every time we came we saw that they recognized our faces. They would happily greet us and go to their favourite person. It makes us feel good to know that we're a positive influence and a friend."
First-time companion Maria Guarda was elated that she had made the time to come. She had worked with disabled children before and was impressed with what she had seen. "I'm very impressed with this orphanage, what I've seen so far," she gushed. "I enjoy doing this so much. The children are very happy. I introduced myself to them and gave them the colours they wanted to decorate their bags; then I helped take them out to the park." The experience had been well received, and was deemed worth repeating.
By and large, Trinity Student Government Clubs engage in activities that promote interaction with the local community. Both parties benefit. Additionally, president of Kid Companion Sam Brosman was happy that their activities continuously fulfilled the ideals from Trinity School of Medicine's watchwords of, "Challenge. Inspire. Empower." He admitted: "We inspire just by coming here and playing with the kids, being a part of their life. We inspire them to do something great, because living in an orphanage is not easy. Hopefully, the fun we provide brings a smile to their lives."
He similarly agreed about "empowerment". "We do empower. It involves building up these kids with activities like these," was his opinion, "We always see kids trying to go beyond what is normal for them, especially in those with physical disabilities who always try harder to achieve." As far as the "challenge" goes, he was sure that the students weighed in on that one. "The challenge goes to the students," he acknowledged. "When we come here to do this, we put aside time to spend time with kids that are much less fortunate than we are. Maybe after we see these kids it becomes less of a challenge and our problems are not as big, after we see them."
With the phenomenal work done with the children of the St Benedict Children Home and the Bread of Life Orphanage, the members of Kid Companions will continue to create activities that will inspire, empower and challenge all concerned.