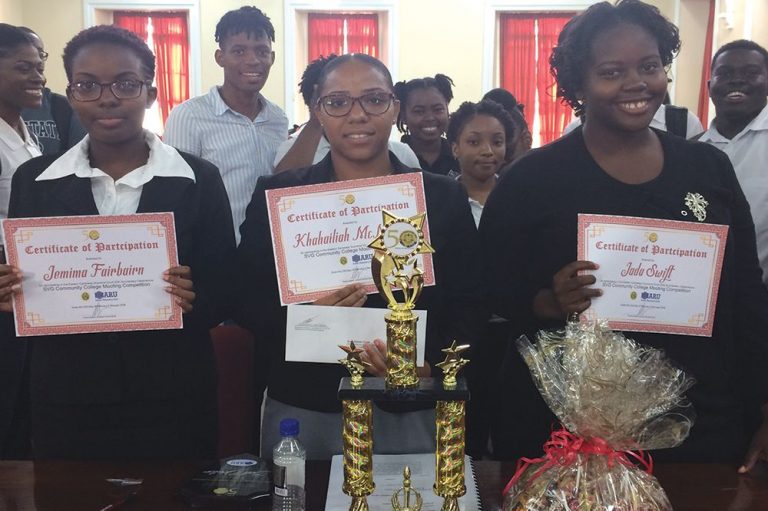 Local Vibes
March 6, 2018
SVGCC students take part in ECSC mooting competition
A first of its kind mooting competition for students of the St Vincent and the Grenadines Community College (SVGCC), hosted by the Eastern Caribbean Supreme Court (ECSC) 50th Anniversary Celebrations Committee, took place in an atmosphere of great excitement at the House of Assembly on February 23.
Among the distinguished audience observing the proceedings were justices Esco Marie Henry and Nicola Byer, as well as the Attorney-General Jaundy Martin, president of the Bar association René Baptiste and the registrar of the High Court, Andrea Young-Lewis.
So impresed was Justice Byer that at the end of the competition, she commented that she had a feeling that very soon she would be looking for a job.
The mooting competition comes at the end of nearly a year of activities marking the golden anniversary of the ECSC, which was on February 27 last year. It is a mock trial and those involved take the role of claimants and defendants, and argue on points of law that emerge from a factual scenario given to them.
The claimants in the mock trial were CAPE law students and the defendants were students of the Associate degree in paralegal studies programme, while the factual scenario presented issues in contract law.
All the formalities observed, the three 'Justices' for the occasion, Stanley 'Stalky' John QC, Duane Daniel and Paula David, were introduced and took their seats opposite counsel.
Claimants, represented by students, Khahailiah Mc Millan, Jemima Fairbairn and Jada Swift, and defendants, represented by students Natalia Ollivierre, Jo-Ann Andrews and Vinesha Benjamin, had 20 minutes each to state their case, after which they were given a chance to rebut arguments.
The students withstood a series of questions from all three judges during their prepared presentations, and were judged based on this, being their oral submission, as well as their written submissions.
Written submissions were judged in the categories of: knowledge and use of the relevant Acts, legal analysis, logic and reasoning, clarity, organization, persuasiveness, correctness of format, sources and citations, grammar and style. Oral submissions were measured using the categories: quality of argument, knowledge of the facts, the organization of presentation, the responsiveness to the judges' oral questions, and overall persuasiveness.
When the time came for the judges to announce the results, both sides were already reeling from a very intense trivia segment of the competition and held their breath as they awaited the results.
The defendants won the prize for the written submissions, the claimants for the oral submissions, as well as the overall case. When it was announced that the claimants had won the case, there was an outbreak of joyous applause, something that doesn't usually happen in a court of law. On the other hand, the defendants took their loss hard, one counsel being reduced to tears in disappointment.
However, the Justices were impressed by all, David commenting, "I was very impressed with the hard work that you ladies put into this exercise. It was very clear to me that you worked very hard, all of you. I was particularly impressed that, this has to be a scary exercise for you, and you stood your ground…you didn't flake under what I thought was intense questioning. So I wanted to congratulate you on that."
John also lauded their efforts, opining, "I think they did very well, very well. They were spectacular; they were confident; they were well prepared; they were articulate; they were enthusiastic. I was especially impressed with the way they were responding to the questions asked from the bench. Their teachers must have done an excellent job with them."
The Committee ended its activities, which had started in May of last year, last week Wednesday, and they included, among other activities, church visits, an 'each one feed one' soup kitchen, a very popular free legal aid pop-up clinic and, in association with the Bar Association, a 'no means no' campaign regarding violence against women.(KR)