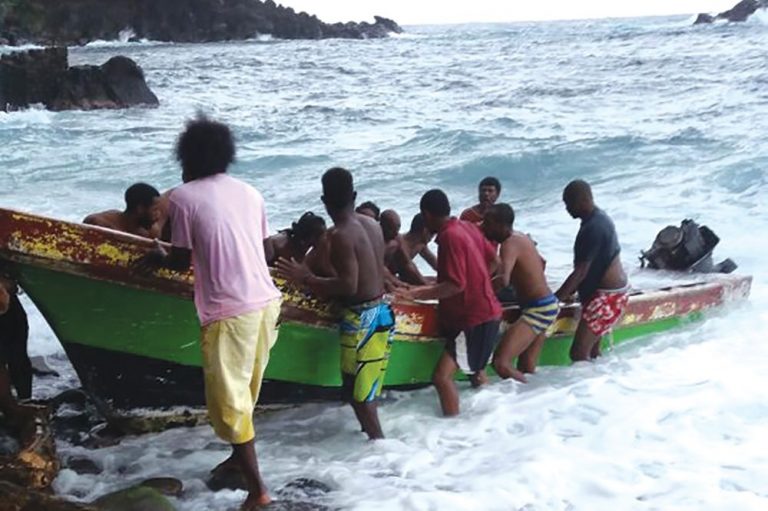 Local Vibes
January 30, 2018
One missing, after boat capsizes off coast of Fancy
A boat overturned off the coast of the north eastern village of Fancy on Monday morning and one person is said to be missing.
According to reports reaching SEARCHLIGHT, there were three persons on board the small fishing vessel, two of whom were rescued.
A resident of Fancy, who tried to assist the occupants of the boat, said he was in an area known as 'Ring,' when he saw three men in the water.
According to the eyewitness, the boat was being captained by a "rasta youth from Leeward," who said the engine of the boat had closed off and the boat had drifted back to Fancy and filled up with water.
The Fancy resident said he and others got into a boat and tried to help them, but because of the rough waters, they could not get close to the men.
"So, by the time we go there now, the man done drift and two of them end up come in Charles Bay, but the man (captain) telling me one go down; obviously he dead. 
"The captain called somebody with a boat (when they encountered difficulty) to come and save them, but by the time he reach to come and save dem, they done get in the water already; so the boat just picked up the other men and they leave."
The boat "Tribal Luv", with registration number J6-1201 was retrieved from the water by residents of Fancy.
It is not clear if the boat was travelling in a northerly or southerly direction between St Lucia and St Vincent when it got into difficulty.
The St Vincent and the Grenadines Coastguard told SEARCHLIGHT that on Sunday, January 28, the St Lucia Marine Unit received a report that a vessel which left St Lucia on Saturday, January 27 had not returned when expected.
According to the SVG Coast Guard, the two men who were rescued by the Fancy residents were Thomas Evans and Osborne James. They were taken to Sandy Bay, then to the Georgetown Police Station. One is said to be a patient at Milton Cato Memorial Hospital in Kingstown, while the other was at the Central Police Station at press time.
Yesterday, at the time of the incident, a high surf advisory and small craft warning was in effect for St Vincent and the Grenadines. It remains in effect until 6 a.m. tomorrow, Wednesday.(GHJ)