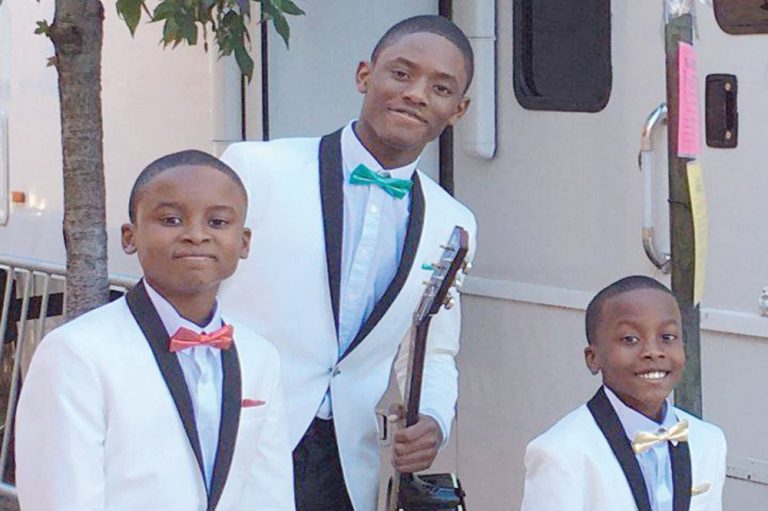 Local Vibes
December 19, 2017
Melisizwe Brothers win amateur section of Showtime at the Apollo Christmas Special
The Melisizwe Brothers have won the amateur section of the 2017 'Showtime at the Apollo: Christmas Special.
Last Thursday, the three brothers sang the Jackson 5's classic, 'Santa Claus is coming to Town', snatching the first place from the other competitors, in front of a packed crowd and millions of television viewers.
In their interview, the brothers said they loved the Jackson 5.
"Being here at the Apollo theatre was amazing…The fact that Jackson 5 got to perform on the Apollo stage and us as brothers having to perform here as well is really going to make a big impact in our lives," Marc said.
It was evident they were the favourite, as the crowd cheered the loudest in support of the boy group. Upon winning, they were all in tears, with lead vocalist Zacary hugging Steve Harvey, the MC and saying thanks to the audience who made their time very special. The winner was chosen by crowd approval.
Special guest performances on the show were from Boys II Men, Snoop Dogg, DMX and Fifth Harmony.
The Melisizwe brothers, Marc, Seth and Zacary, are talented Vincentian artistes, who this year have been making an international name for themselves.
On December 6, 2016, the three were asked to perform on the Ellen Degeneres show in Los Angeles, after their Youtube video of them performing, 'I'll be there' went viral. Since then, they have performed on the Steve Harvey show, singing 'Silent Night' and have been performing at concerts throughout the United States and even in London.
Their next scheduled event is this Saturday, December 23, 'Christmas with the Melisizwe Brothers' in Edmonton, Canada.
The boys, who were born in Ontario, Canada, have Vincentian parents and have performed at several local events.
They recorded a music video 'Welcome to St Vincent' for the opening of the Argyle International Airport.(CB).