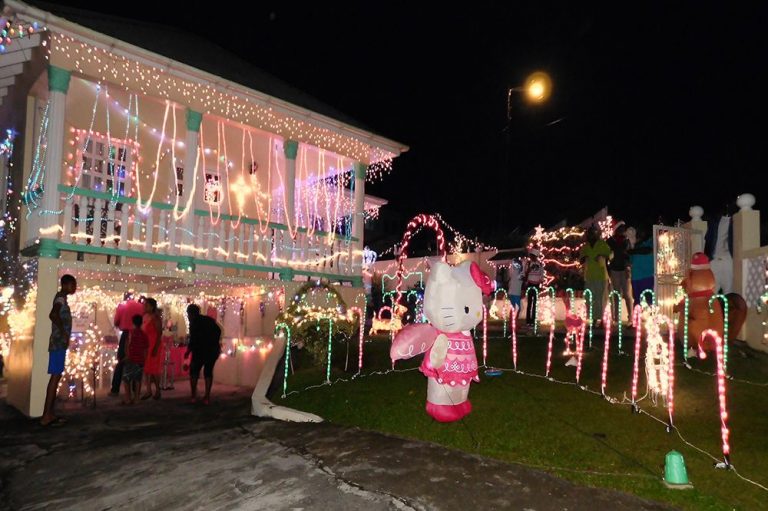 Local Vibes
December 19, 2017
Dasilva debuts her 2017 light-up theme: 'Ascending heights to see Jesus the light'
Last year's winner of the Best Lit Home award in the VINLEC National Nine Mornings Lighting Up Competition is ascending even higher with her display for 2017.
This year, Olivia DaSilva of Cane End has as her theme, 'Ascending heights to see Jesus the light' and has incorporated into her design ornately decorated steel-framed persons, raising their hands in praise.
"Christmas is all about Jesus Christ and we know we are told that he is born on Christmas Day, but because he is our all, it doesn't have to be the birth of Jesus all the time…. And we know from beginning, He's the light of the world and He is also the King, so you can see the crown on the wall there," Da Silva explained.
Secular themes, like reindeer and Santa Claus, are creativly mixed in with biblical portrayals, such as the nativity scene. They are all carefully placed around the coloured and laser lights at one side of the house.
In her garage, DaSilva has a display of the trophies she has won and newspaper articles of her lighting up successes over the years.
Da Silva, a retired educator, who has won the title six times since she began competing in 2002, said she would be satisfied with whatever the results are this year.
"Well, I have been in the competition since 2002, but when I started it was just whatever lights that I had. But as the years went by, I became more interested, so I got in more lights and I came in second. Then, after that, it's like I went on a large scale…[and] last year is the sixth time I won. Don't know what would happen this year, but I am humbled with whatever I get."
The passionate Da Silva explained that she takes out all the bulbs from any string of lights that is not working, to have it fixed, adding that she does her work without assistance and that her designs have been guided by the Holy Spirit.
She disclosed that this year, in one area, she was not sure what she was going to do, but as she started to run the lights, an idea came to her.
"…When I started to drop the lights, the idea just came, let me just put the red and the white together."
Dasilva's Christmas light display at her home in Cane End, Marriaqua, may be viewed from 7 p.m. each evening.(CB)