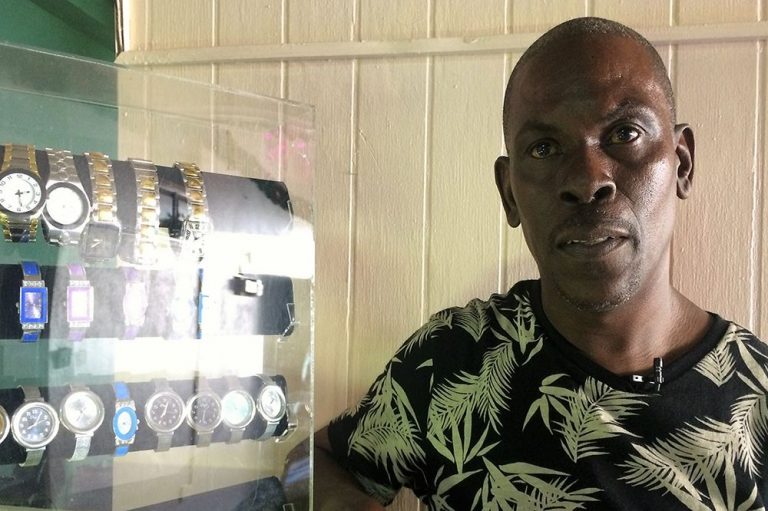 Local Vibes
December 8, 2017
Keystone Jewellery – Unique, personal statements made with gold
Much more than adornments that perfectly complement one's attire, jewellery is a mode of personal expression.  
And, when Vincentians want to find that piece of jewellery to make a unique personal statement, they start their quest at Keystone. Established on November 25th, 1998, the jewellery making and repair business was conceptualized by George Walters, after observing the need for such services locally. 
"Only Y De Lima was the one doing jewellery. They had nobody that was doing repairs on jewellery or polishing of jewellery, so I start on the street first and it motivate me to bring service to St Vincent," he said.
He noted that while Y De Lima sold jewellery, they did not provide customization services.
"The market was there and it prompt me to take advantage of that market."
 Keystone specializes in manufacturing originally designed gold jewellery, but also prides itself in producing pieces according to the customer's specifications. Popular requests include name earrings and pendants, birthstone rings, engagement rings and wedding bands. "If you have a design in your own head, you put it forward to us and we will produce it for you," Walters said. 
Voted Best Jewellery Maker in the Best of SVG awards, Walters is grateful for the public's enthusiastic reception of Keystone's products and services.
"It (the award) came from the Vincentian public itself, so I must give the utmost thanks to the Vincentian public, because the service is there and they know what is quality and they accept quality. We, at Keystone, listen to our customers attentively, and try our best to meet the customers' needs. That is the reason why I came out as the best jeweller. I hope they continue to support me." 
Walters shared that running Keystone has been a learning experience.
"To operate a jewellery business in SVG is very challenging. First, St Vincent is not a country where gold is one of our resources, so we have to educate the public all about the mineral; example, it carry carats and weight which determines the price, not price for its size and weight. Secondly, supply of tools to use in the jewellery workshop is very limited."
One of the busiest times of the year for Keystone is Carnival, at which time Walters says they serve an "overflow of customers" from the Caribbean, North America and Europe in search of quality work on customized jewellery. Christmas is also a peak business period. However, the back to school season is very special to Walters.
"We, at Keystone, is all about nation building, so our part is to assist schoolchildren in getting back to school on time. Education is what builds a nation. Building a nation is what we at Keystone look forward to."
And, in keeping with the giving spirit of the Christmas season, Keystone is offering 10-25 per cent discount storewide. 
Keystone is located in Lower Middle Street and can be contacted at 430-8904.