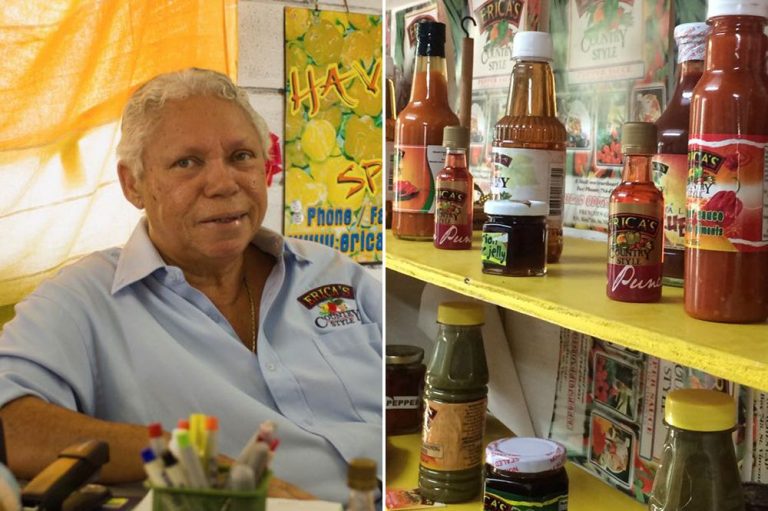 Local Vibes
September 22, 2017
Erica's products – big on quality, standards
It is well established that Vincentians like their meats and fish well seasoned. And, there are many who must add a dash or more of pepper sauce to their food to improve the flavour.
Whether it is green seasoning, pepper sauce or other condiments, Erica Mc Intosh is right up there as an agro-processor of the highest quality products, which have been a staple on dinner tables and the shelves of local shops and supermarkets for well on three decades.
Pepper sauces come in the more familiar standard 155 ml and 300 ml bottles, and green seasoning in size of 300 ml and 750 ml, but smaller sizes of 60 ml and 50 ml respectively, are available in gift packages.
Over the 30 years as an agro-processor, Erica has forged ties with local farmers who supply the raw materials she needs. At one time, the network comprised more than 100 farmers; now that pool has dwindled to 25-30.
"The marketing situation has been cut back over the years," Erica explains to SEARCHLIGHT.
"We used to export quite a bit to the UK, United States, Canada, some of the other Caribbean islands, but right now, the only export market we really have is Tortola in the [British] Virgin Islands."
Erica's pepper sauce won second prize in the table sauce section at the 2010 edition of the Hot and Fiery Food Challenge in Texas, USA, and she points to the importance of being there.
"Marketing takes a lot of finances, and, previously when I used to have the American market and the English market, I use to go on a lot of trade shows, but they were very costly… you have to continue attending these shows so people would recognize and see you are still around, you have not disappeared; but things are tight."
These days, in addition to imports, consumers have a wider choice of pepper sauces, done by some 17 other local producers, and green seasoning, which an estimated 22 cottage manufacturers produce, competition which Erica describes as healthy.
At one time, she manufactured 22 different products; now, there is a core of five on the market: pepper sauce and green seasoning – which remain the big sellers – as well as pepper jelly, passion jelly and plantain chips.
The factory has the capacity to produce 100 cases of any of her products daily – each case containing 24 bottles; the current daily average output is 25 cases.
While there has been a reduction in the volumes manufactured, Erica and her reduced staff of four ensure that quality remains unaffected.
A trained micro-biologist who majored in food processing, Erica thinks her track record for quality helped to earn her the public's vote for best green seasoning, best pepper sauce and best condiments, in the Best of SVG 2017 Awards.
"I've tried to keep the same quality product and… I try to get out there and talk to people and do little shows at supermarkets, but the main thing is that I've tried to maintain my standards," adds Erica, who expressed gratitude at having been so recognized by the public.
She remains upbeat about a rebound that will see her concentrate on producing a small range of products that will have positive spin-offs for the farming community.
…And, about continuing actively in the agro-processing sector, Erica hopes to "be able to do it for another five years" and hand over to someone else already earmarked.
"I can't work 30 years and let it just disappear," she quips.
Erica can be contacted at telephone: 456-2951.