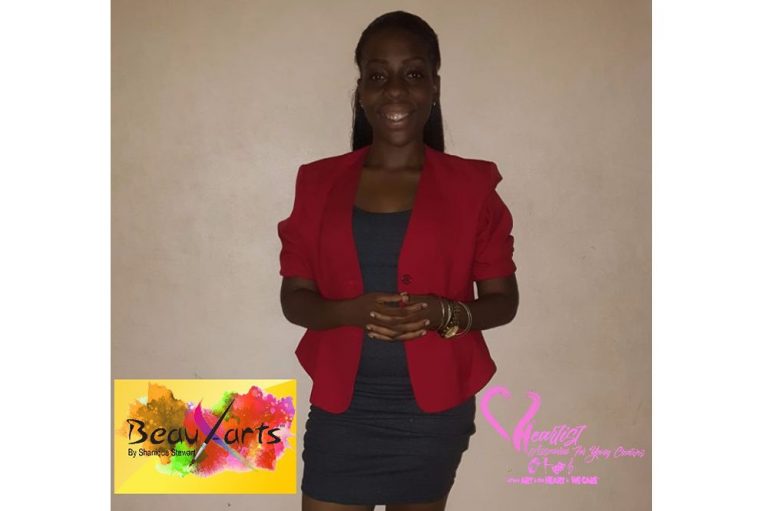 Local Vibes
July 18, 2017
Artist's dream of painting Carnival mural on outside wall of Victoria Park realized
As a child, Shanique Stewart dreamed of one day painting a Carnival mural on the outside walls of the Victoria Park.
And for the 40th anniversary of Vincy Mas, she finally realized that dream after having proposals turned down on several occasions.
"What I wanted to do was do the past, present and future. So I included Calypsonians, Mas, and Soca Artistes. Everything that Carnival was and is today in the mural in terms of a portrait," she said of her theme for the mural, during an interview with SEARCHLIGHT last Monday.
She has previously done murals on the wall of the Kingstown Evangelical Church and the wall at Massy Stores at Upper Bay Street, Kingstown.
Stewart said that she developed a passion for the arts in pre-school; however, she currently majors in the visual arts. The 24-year-old said that she believes her work in St Vincent is preparing her for work further afield.
"When I went to Jamaica to go and study, I brought what I did and I was praised, which led me to opportunities to working in my first few months up there," she noted.
Stewart stated that while many persons may see art in St Vincent as not being profitable, she does not agree. However, the young woman said that once an artist markets herself properly, her work can be profitable.
She disclosed that she is inspired by artist Calvert Jones' sense of business.
"When I started out my personal business, I would watch him and see what he would do as an artist to market and brand himself."
Stewart is currently working towards a degree in sculpting, with a minor in fashion.
She advised upcoming artists to not just look at the money, and never be scared of doing work for free.
"At the end of the day, you are practising and you are training yourself. Don't ever give up and don't ever stop pushing," Stewart said.
She said she is inspired by art that is traditional, as well as creative.
"I like things that step out of the box, but still have the kind of appreciation for art, the structure and form of art."
Stewart is hoping that companies and persons who can afford art would give young people a chance and listen and hear their ideas.
"The arts can bring in a great revenue for St Vincent. I'm not talking about the visual arts; I am talking about music, dance, and all these art departments that we don't zero in on," she explained.
Stewart thanked Troy Archibald, a young artist who assisted her with the mural and design on the Victoria Park wall. She said she tries to give young people opportunities which she never had.
Stewart hopes that in the next five years she will be known around the region. However, she is hoping within the next eight years to be known internationally.(CM)