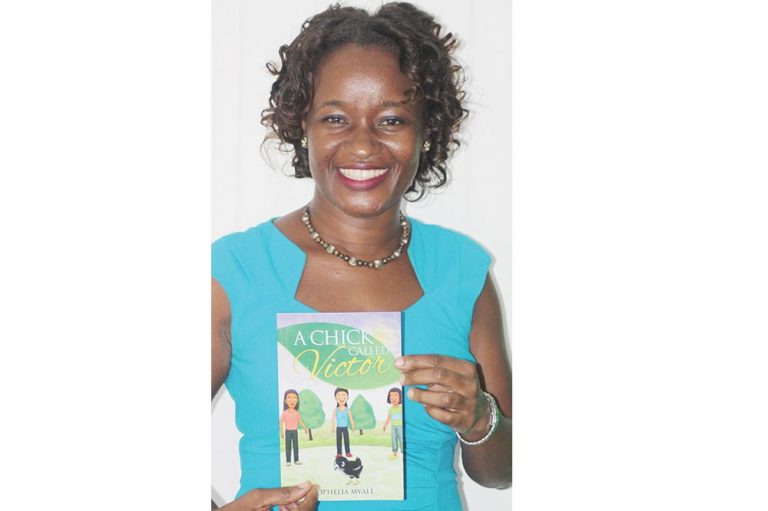 Local Vibes
June 23, 2017
Registered nurse writes children's book
A few months ago, Ophelia Myall, a Vincentian registered nurse, stepped out of her comfort zone and wrote her first children's publication.
The book, "A Chick Called Victor", is based on one of Myall's childhood experiences and speaks about helping others. It is aimed at the age group five to 10.
"The concept is that when it comes to acts of kindness, you don't need to have an incentive to be kind. If you see the need to do something, just do it and I think that you are repaid for kindness," said Myall to SEARCHLIGHT last Tuesday while explaining the idea behind the publication.
She said that the book is about three children who found a chick and are helping it to recover from an illness and are rewarded for their efforts.
The book, which has illustrations, was inspired by her nine-year-old daughter Tizi Myall and was published by Amazon.
"I had a childhood experience and I told her (Tizi) about it and she said I should make it into a book," explained Myall, who is also a nurse educator who practised nursing in the Cayman Islands for four years before moving back to St Vincent and the Grenadines.
She said that since returning here, she has not been able to find a job, so she decided to write the book instead of just sitting round and waiting for someone to employ her.
She noted also that she has a strong social media presence and blogs about self-development and would like persons to learn about self-help, instead of waiting for handouts.
"Education is just the basic foundation; it is what you do with it that really matters and a lot of people thought I was crazy when I wanted to do the book, but is part of my passion and it educates as well," said Myall.
She revealed that she has two other publications in draft and she is thinking about publishing them, as "A Chick Called Victor" was well received.
The book is available for sale on Amazon or can be bought from Myall for EC$25. Persons can contact her at email address hello@cupidandi.com or on her website cupidandi.com. She is also on Facebook as "Taibelle".
Myall is originally from Chester College, but grew up in Georgetown and now resides at Ratho Mill.