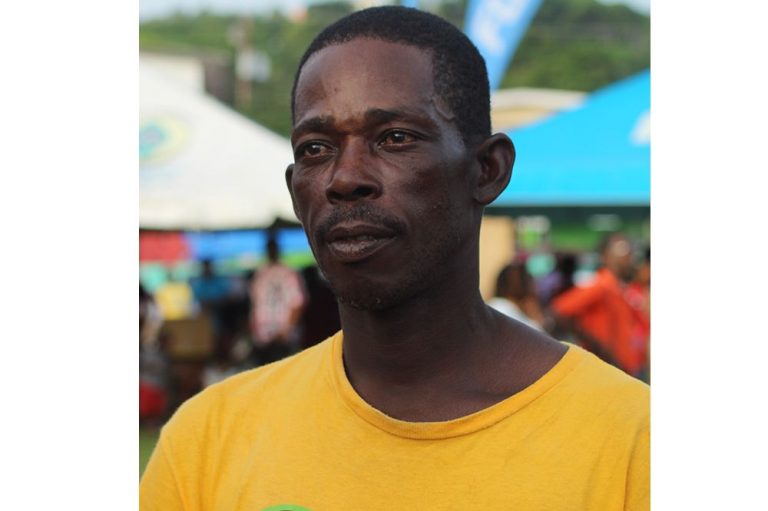 Top fisherman relives his escape from death at sea
Winning the title of Fisherman of the Year 2017 is bittersweet for Vanrick Allick.
The Clare Valley fisherman and his crew members Kevin Grant and Tarmar Jack brought home 462 pounds of fish (the heaviest catch in Class One) last Monday, during the annual Fisherman of the Year competition.
But their triumph was dampened by the fact that the day before, six persons went missing at sea, causing the annual Fisherman's Day activities to be scaled down.   
The incident brought back memories for Allick, as a few years ago, he and two men were flung into the same predicament, when their boat capsized during a fishing expedition.
Allick made it home alive, but his crew didn't.
Reliving the experience, Allick, who has been fishing for over 20 years, said, a few years ago, he and "Alphanso" and "Curtie Forde" were fishing on a Sunday, when the boat's engine stalled. He said that while trying to restart the engine, a wave sank the boat.
Allick, who was the captain of the vessel, told the other two men to hold on to the gas jugs that floated when the boat sank and that worked for a while, but then Forde opened the jug and drained gasoline into the water and that was a mistake.
"Three ah we hold jug, but Forde took the jug of gas and open the gas on water so the gas was on the water and it burn up we skin and he was the first one that went missing," recalled Allick.
The dedicated fisherman said that after Forde went under, he and "Alphonso" held on to their jugs until Monday, but "Alphonso" soon grew tired.
"We just dey ah swim, swim, swim, until the Monday morning, when we ah swim, so while we ah swim, he say he can't make it no more, so I was diving him up when he go down and bringing him back on the jug, because I had nothing to tie him up…while me ah dive and dive, me weary too, so the last time he go down me try go down for him and me couldn't make it, so we just had to give up," Allick remembers.
He said that he kept swimming and on the Tuesday evening, he eventually ended up on some rocks in Gros Islet, St Lucia.
"Only me alone survive. I drifted from Sunday to Monday to Tuesday evening, I reach Lucia and swim until I meet rock. As the captain, I was feeling for the tide, so I knew how to swim to make land. I was telling them swim with me…it's just life," Allick commented.
In relation too the missing six, Allick said that he is saddened by the incident.
"Me feel funny to because the same fella with the boat I know him, so I feel funny because he have a house in Chauncey…all ah we is fisherman. I would glad if they find them."
And in relation to him winning the Fisherman of the Year title, he commented, "I fishing for 20 something years, so I will feel good today."
He revealed that when he started out on Monday morning, they met fish, but the fish were not biting, so they were worried.
"I met a piece of plastic, like a roll of plastic tie up together and fish around that. So we caught fish around that," said Allick, who travelled approximately 30 miles north in his boat "Rainbow" and caught a number of different species of fish, including dolphin, king fish (one), tuna (one) and cavalli.
Allick said that he will sell the engine he won and share the money among his crew.
"This is the first time I win, but I placed before with other people," explained the 44-year-old father of three, who apart from having the heaviest catch, also had the third largest number of fish in Class One.
Second heaviest catch went to Kenroy Bruce, with 440 pounds in his boat "Chances" and third was Ray Anthony Clarke, with 433 pounds in his boat "Ray J".
The official awards ceremony will be held on Monday, June 12.(LC)