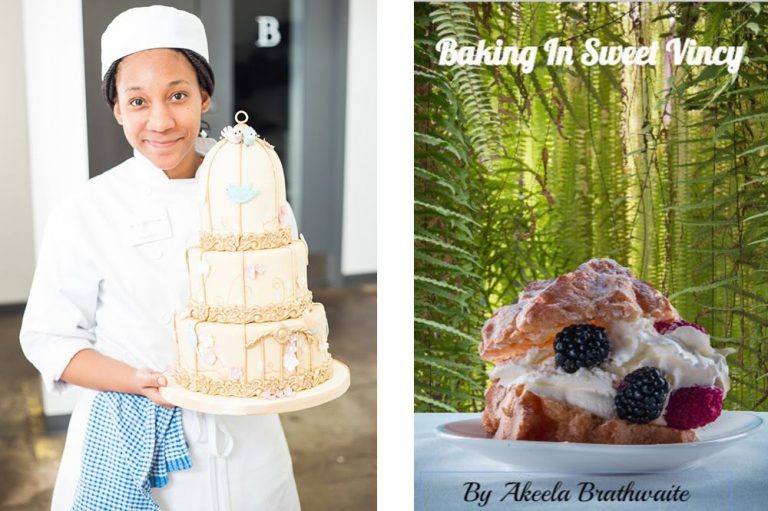 Local Vibes
January 31, 2017
Baker looking to revolutionize art of cake decorating in SVG
Green Hill resident Akeela Brathwaite is looking to revolutionize the art of cake decorating in St Vincent and the Grenadines (SVG).
Brathwaite recently graduated from the Bonnie Gordon College of Confectionery Arts in Canada and has moved back home.
Having just published her first book, called "Baking in Vincy", the budding entrepreneur also plans to open a cake decorating shop in July.
"I realized that St Vincent and Grenadines didn't have any published baking books when I visited the library. I decided it was about time I changed this and sought out the help of my grandparents," Brathwaite said.
The book features baking recipes that use ingredients from SVG and add Brathwaite's own style to some of the recipes.
"I added my expertise and modern techniques to give a new spin on traditional recipes I grew up with. I wanted my book to be fun and funky, match my personality. Plus I wanted people to see how fun it is to bake in Vincy," Brathwaite explained, adding that her book is dedicated to her grandparents Jestina and George Derrick.
Brathwaite disclosed that she found comfort in cake decorating after a tragic incident two years ago.
"Cake decorating made me happy again. It saved my life," she said, noting that she finds inspiration from many different things: the beach, family, cake magazines, paintings, cake blogs, fabric and client memorabilia.
The dedicated artist said she has noticed that the country is lacking when it comes to supplies for cake artistry, but she is hoping to solve this problem when she expands her business to provide cake decorating supplies.
The Barbadian born Vincentian raised woman said that her grandparents have influenced both her academic and personal life, having taught her about hard work and mature thinking.
"Everything in life is attainable if you work hard and never give up. No matter how many obstacles in life you face, always remember there is something better and greater at the end of the hurdle waiting for you. You determine your destiny", said Braithwaite.
One of Brathwaite's recipes
Sorrel Meringue Pie
"Sick, under the weather, not feeling well? Time for sorrel meringue pie. It's rich in Vitamins C & A, it chases the sniffles away!"
16 ounces sorrel
2 eggs
1 1⁄2 cups sugar (granulated, white)
9 inch pie shell (baked, short crust pastry)
2 tablespoons sugar (granulated, white)
1⁄2 cup water
Step to it, you can do it!
Step #1: To make this delicious pie that's tangy yet sweet, begin by removing the sorrel leaves then chop them into small pieces.
Step #2: Put 1⁄2 cup of water and the sorrel into a saucepan. Bring it to a boil. For 10 minutes, cook on a medium heat; these are the first two steps in preparing this zesty treat that can't be beat!
Step #3: Put the sugar into the saucepan and cook for another 15-minutes on a high heat until it's thick, that's the trick!
Step #4: If grandma were here she would say, "Transfer the sorrel to the pie shell." (If it's too "liquidy" and you need to make it a little thicker, 2 teaspoons of cornflour will do the trick.)
Step #5: Tell me the time & temperature, please? 425* degrees! How long does it take to bake? 15 minutes, please.
Step #6: It's time to make the meringue. What should I do? To make a medium-stiff peak, whisk only the whites of the eggs and slowly add 2 tablespoons of the sugar then continue mixing until it forms a stiff peak. Avoid over-mixing.
Step #7: Over the pie spread the meringue to give it a zesty tang! Bake it in your oven you've preheated at 425*F for approximately another 3-5 minutes until the meringue is brown, that's how it's preferred in Georgetown!