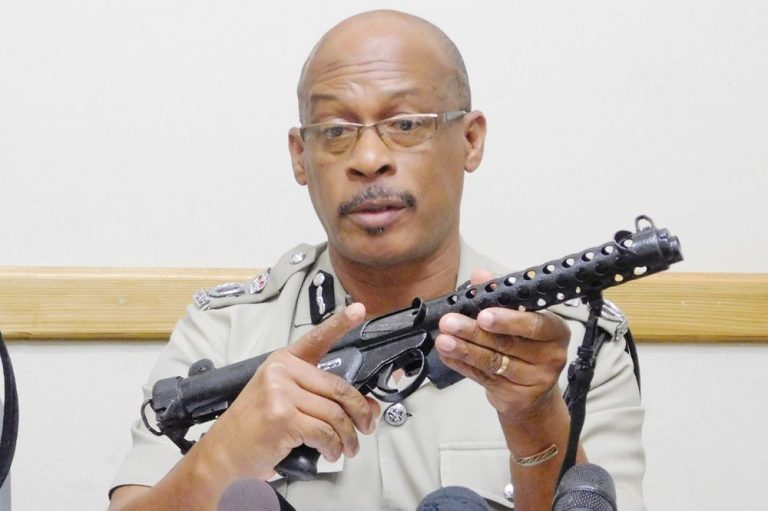 Local Vibes
January 20, 2017
Police discover sub-machine gun and other weapons – two arrested
2017 has begun with a bang for the Royal St Vincent and the Grenadines Police Force (RSVGPF), they, on Wednesday having confiscated three fully operational firearms, a number of different rounds of live ammunition and two ski masks from a home in Lowmans Leeward.
The weapons, a sub-machine gun (SMG), a Glock 40 pistol and a .38 revolver were seized during an early morning raid, which saw a male and a female being detained. Along with the guns, police officers also found an AK47 magazine with one round of AK47 ammunition, 14 rounds of Glock 40 ammunition and 45 rounds of 9 mm ammunition.
Speaking during a media briefing on Wednesday at Police Headquarters in Kingstown, Commissioner of Police Renold Hadaway said that 2016 was not a very good year from a crime perspective, as 40 persons succumbed by violent means, 28 killed by firearms.
"It was our record year and throughout the year, we would have seen it fit to put measures in place to address the upsurge in criminal activities, particularly gun-related activities. I would just like to say as a result of our efforts in 2016, we would have removed 43 firearms from off the streets. This clearly shows that the police is committed towards addressing the whole issue of crime and violence and more specifically, the issue relating to gun-related activities", said Hadaway.
The COP said that thus far this year, there have been no gun related killings and the police are hoping that this trend will continue.
"It is not just that we are sitting and hoping, we are taking action. We have put in place mechanisms, strategies to address the whole issue that caused the nation in 2016 to be in a state of panic, so to speak," said Hadaway.
The COP, a weapons expert, said that it is disturbing that the weapons found were in the hands of criminal elements.
He said that the SMG is the most deadly of the find, as it is an automatic weapon that operates from what is known as an open bolt position.
"…that is to say, as it is now, if you squeeze the trigger, nothing will happen even though there's a magazine on the weapon. In order to activate it, the bolt must be to the ground. It tells you this is a serious weapon that we have recovered off the streets," explained Hadaway, who said that the SMG came with a magazine that carries 29-30 rounds of 9 mm ammunition and once fully loaded and the trigger is squeezed, the weapon releases all the rounds.
Hadaway, in an effort to show members of the media how the gun works, charged the SMG and pulled the trigger, startling a female media worker.
In relation to the two black ski masks, Hadaway said that they were a concern to the constabulary.
"These masks are an issue of concern for us. All law enforcement authorities in St Vincent are aware of the implications and once they are discovered, action would be taken to remove them from wherever they are.
"For example, if they come to the Customs and it is discovered, they would call us and we would remove them from there and have them.
"Incidentally, we know how porous the borders of St Vincent and the Grenadines are. It is believed that some of these things may be making their way through our porous borders, but we are again, as I indicated, making a serious effort to take the firearms off the streets during this year and beyond," said Hadaway.
Also on display was a shotgun that the Commissioner said was recovered during a raid in Dorsetshire Hill on Tuesday, January 10.(LC)