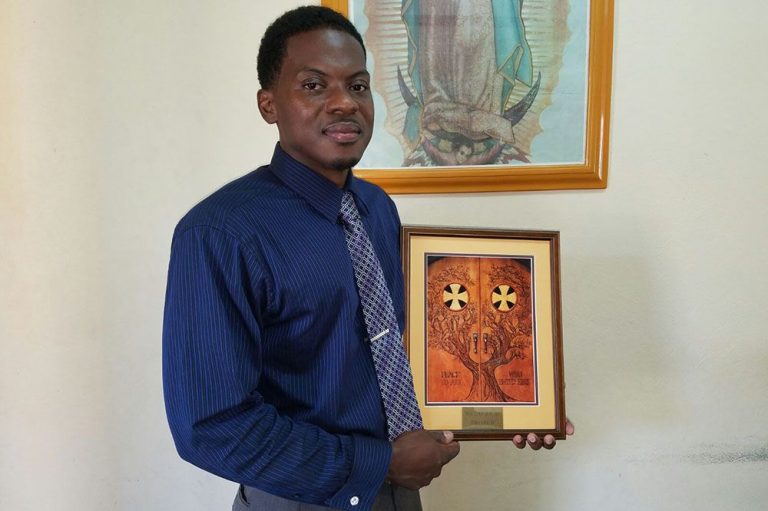 Local Vibes
January 11, 2017
Vincentian is first international student to receive prestigious U.S university award
Vincentian Petrus Gumbs has secured himself a place in the history books of a U.S-based university as the first non-American to receive the institution's Young Alumni Award.
A Vermont resident, Gumbs was selected for the prestigious award by The College of Scholastica, which is located in Minnesota and was founded in 1892.
Speaking with SEARCHLIGHT, the St. Martin's Secondary School (SMSS) teacher said that he was notified of his latest achievement last December; and was "taken aback" by the award.
"I am pretty surprised about it because to be reviewed by a group that is way more advanced than you, in terms of the I.T facilities and so forth… and for them to take an interest in a programme that is happening outside of the United States… the magnitude of receiving that award is great!" he enthused.
Gumbs said that it took a while for the reality of the award being bestowed upon him to sink in.
"From ever since, they have being giving it [the award] to American citizens. So, I was like how come they're taking this kind of interest in someone outside of the country?"
Gumbs is also the founder and director of the STEM SVG Summer Programme; for which he was evaluated to receive the Young Alumni Award.
A group of professors at the university had been discretely evaluating his work as an educator and with the STEM programme; and found him to be one of the few graduates within the Computer Information System department who had extended his knowledge beyond the confines of his vocation and had been able to influence the lives of others.
Gumbs further expressed deep gratitude to the SMSS for hosting his STEM programme, which this upcoming summer will be entering its fifth year of operation.
"This programme… could not have achieved the success and popularity it has gained without the support of the facilitators, sponsors and businesses which have been magnanimous in their contributions to the programme," he explained.
Gumbs further noted: "Plans are already being devised to offer more options to students who attend… One of the planned activities is a luncheon for secondary school students who will be exposed to employment strategies."
With registration for this year's STEM summer programme scheduled to begin in March, Gumbs said that he will be working with more organisations and businesses to "ensure that the participants are exposed to a one-of-a-kind learning experience".
The Vermont resident completed a Bachelor's degree in Computer Information Systems at The College of Scholastica in 2009, and spent several years working within that field in Minnesota.
To date, there have only been four Vincentians enrolled at that university in the history of its existence – with his brother and sister currently studying there, too. (JSV)