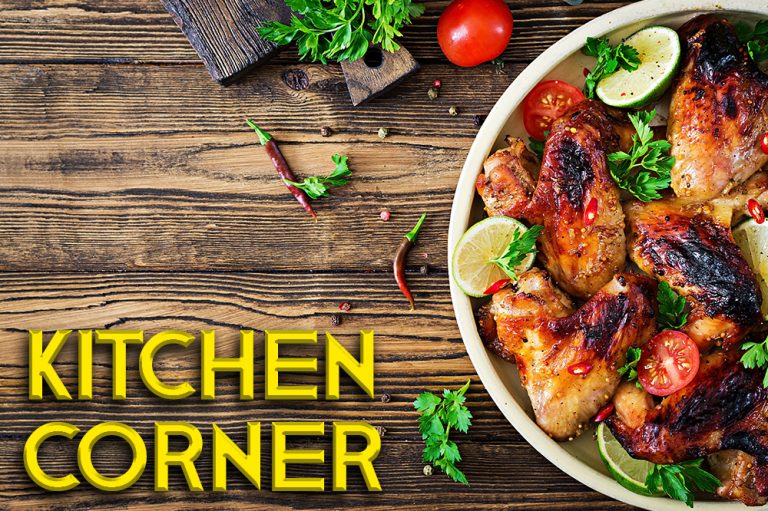 Kitchen Corner
November 21, 2023
Almond Amaretto Cream Pie
You will need:
2 3.4 oz. boxes instant vanilla pudding mix
3/4 cup cold whole or 2% milk
14 oz. can sweetened condensed milk
1 tsp. vanilla extract
1 1/2 tsp. almond extract
1/2 cup Amaretto liqueur
12 oz. container Cool Whip or whipped topping thawed, divided, note that this is a larger container than the smaller, standard 8 oz. size
6 oz. Graham Cracker crust 9 oz. crust will also work
1 cup toasted slivered almonds optional garnish
12 – 16 maraschino cherries blotted dry, optional garnish
Method:
In a large bowl, whisk together instant vanilla pudding mix and milk until smooth. Add sweetened condensed milk, vanilla extract, almond extract, and Amaretto, whisking until smooth. Gently fold in 2/3 container of Cool Whip, or approximately 8 oz. Only just fold it in – do not overmix or Cool Whip will deflate. Spread evenly into prepared crust. It will be full, but it
will all fit. Just keep piling it in, especially toward the centre. Top the pie filling evenly with remaining Cool Whip. Press 12 – 16 maraschino cherries around the edges of the pie, about 1 inch apart. Sprinkle top of pie evenly with toasted almonds. Chill till firm, at least 4 hours.
Store covered in refrigerator for up to 1 week.