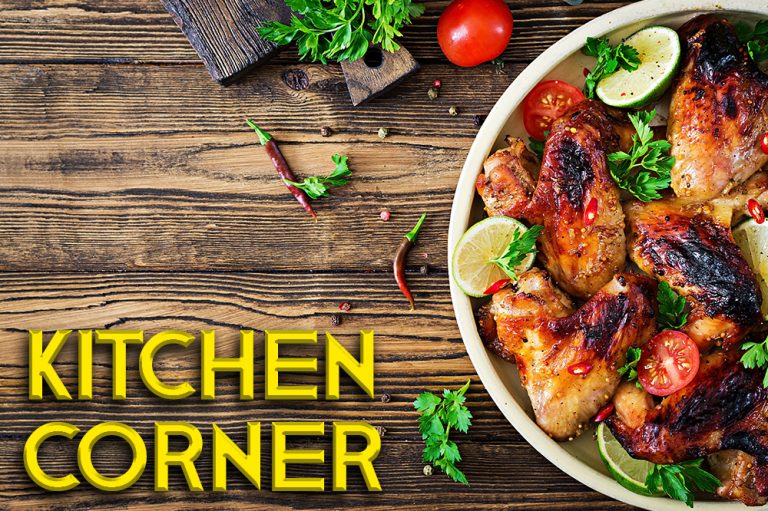 Kitchen Corner
August 15, 2023
Copycat Kentucky Fried Chicken recipe
You will need:
1 whole chicken cut up into 8 pieces (or equivalent amount)
1 cup buttermilk (see tip)
1 large egg beaten
2 cups all-purpose flour
1/ 4cup ground paprika
2 tablespoons garlic powder
2 tablespoons ground white pepper
1 tablespoon celery salt
1 tablespoon ground black pepper
1 tablespoon dry ground mustard
2 teaspoons salt
2 teaspoons onion powder
2 teaspoons dried thyme
2 teaspoons dried basil
1 1/ 2 teaspoons dried oregano
1 teaspoon ground ginger
1/ 2 teaspoon chicken bouillon
Vegetable oil for frying
Method:
Cut the chicken into its respective parts. Pour the buttermilk and egg in a large bowl and whisk well, then place the chicken in the bowl and toss to coat. Cover the bowl with plastic wrap and soak for at least 30 minutes. You can marinate the chicken in this mixture overnight in the refrigerator, if desired. Combine all the dry ingredients together in a bowl.
In a deep fryer, pot or frying pan set over medium-high heat, heat about 3 inches of oil to 350°F. Remove a piece of chicken from the buttermilk, shaking off any excess liquid. Press the piece of chicken into and through the flour mixture, adhering the mixture to all sides. Shake off excess flour and carefully drop the chicken into the hot oil immediately. Repeat with more pieces, frying no more than 3-4 at a time depending on size. Fry the chicken for 12-15 minutes, turning halfway through, until golden brown. Remove the chicken from the oil and place it on the wire rack. When all the chicken is fried, keep them in the oven for about 10-15 minutes at 165°F until ready to serve.
Tips: If you don't have any buttermilk, you can make your own by measuring 1 cup of milk and mixing in 1 tablespoon of lemon juice or white vinegar. Let this mixture sit for 5 minutes before using in the recipe. After marinating your chicken, pat it dry before breading it. This will help the breading stick better. Be sure not to overcrowd the pot. Overcrowding will reduce the oil temperature, leading to oily, soggy chicken. Resist the urge to turn the chicken over until you see a golden brown line all the way around the sides of the chicken. This line tells you that the breading is evenly crispy. Place the chicken pieces in a warm oven to keep them crisp while you continue frying the rest of the chicken.