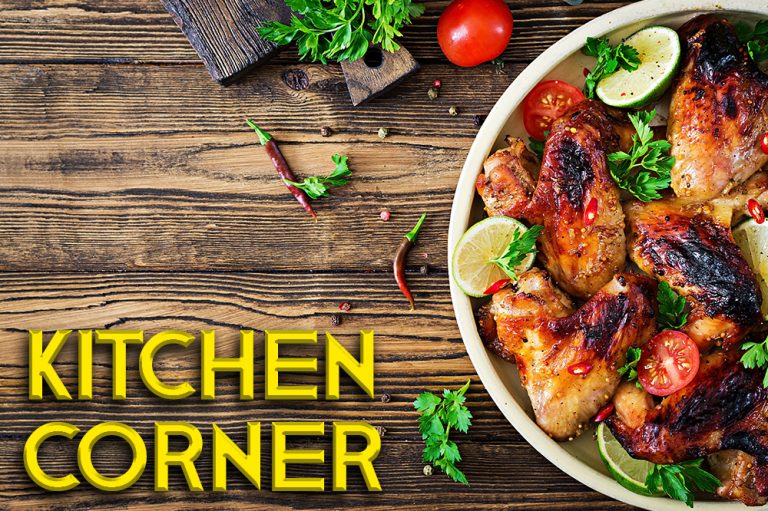 Kitchen Corner
July 25, 2023
Coconut Roll
You will need:
1 cup all purpose flour
1/ 8 teaspoon salt
1 tablespoon sugar
1/ 4 cup cold butter chopped
1/ 4 cup cold vegetable shortening
4 tablespoons cold water
Filling Ingredients:
1 cup frozen grated coconut defrosted
1/2 cup sugar
1 teaspoon vanilla extract
1 teaspoon almond essence
1/2 teaspoon freshly grated nutmeg
Topping Ingredients:
1 egg
1 tablespoon water
1 teaspoon sugar
Method:
First make the pastry. In a large bowl, combine flour, sugar and salt. Add shortening and butter.
Using a pastry blender, cut fat into flour until it resembles small peas. Add water a little at a time, adding just enough until dough comes together. You may not need all of the water. Wrap in plastic wrap and chill in refrigerator for 1 hour.
Combine all filling ingredients until thoroughly combined.
Preheat oven to 350 F. Place a piece of parchment paper on a cookie sheet and spray with non stick spray. Make egg wash by whisking together the egg and water for the topping.
On a lightly floured board, roll out dough into a rectangle. Spread filling on top. Starting on the long side, roll into a tight cylinder, sealing the ends. Transfer to cookie sheet. Brush the top with egg wash. Sprinkle sugar on top. Bake for 1 hour, until golden brown.
Tips: If using freshly grated coconut, add 1 tablespoon of water to the filling.