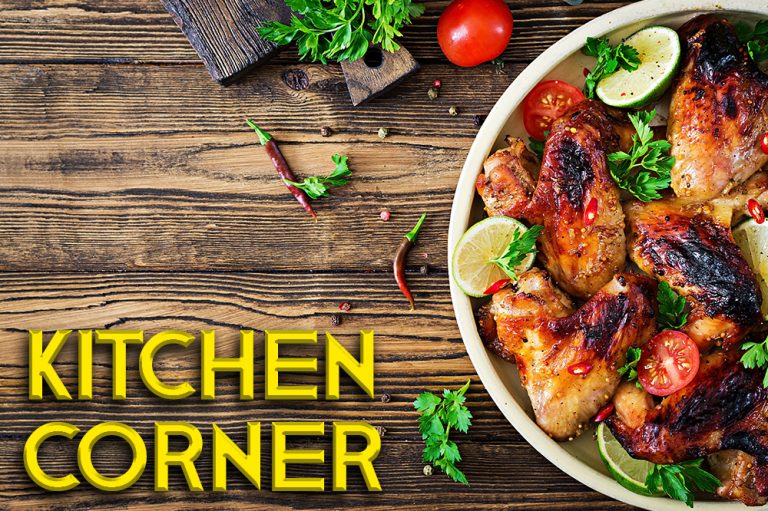 Kitchen Corner
July 19, 2022
Sweet Potato Cornbread
You will need:
2 cups plain yellow cornmeal
1 cup all-purpose flour
1/ 4 cup granulated sugar
1/ 4 cup packed light brown sugar
1 tablespoon baking powder
1 teaspoon baking soda
1 teaspoon salt
1/ 2 -1 teaspoon pumpkin pie spice or cinnamon
1 cup pureed sweet potato
1 cup milk
1/ 2 cup sour cream
4 large eggs
1/ 2 cup unsalted butter melted (plus additional to grease skillet)
Method:
Preheat oven to 375°F. Butter the bottom and sides of a 10 inch skillet or similar. Set aside. In a medium size mixing bowl, use a whisk to sift together cornmeal, flour, granulated sugar, brown sugar, baking powder, baking soda, salt and pumpkin pie spice. In a separate bowl, whisk together mashed sweet potato, milk, sour cream and eggs. Mix well, then whisk in melted butter.
Once combined, add wet to dry ingredients, mixing until fully moistened. Pour evenly into skillet. Bake for 40-45 minutes just until a toothpick inserted into the centre comes back clean.
Serve with butter, drizzled with maple syrup or honey.
Tip: To make sweet potato: Peel and cut potato into slices. Cook in pot of water with a pinch of until fork inserted goes through. Cool and drain for 20 minutes then puree in a food processor or mash until smooth. To make Pumpkin pie spice add 4 tsps ground cinnamon, 2 tsp ground ginger, 1 tsp ground cloves and 1/ 2 tsp ground nutmeg. Store in an air tight container for future use. Substitute sour cream vanilla or greek yogurt and even butter milk.