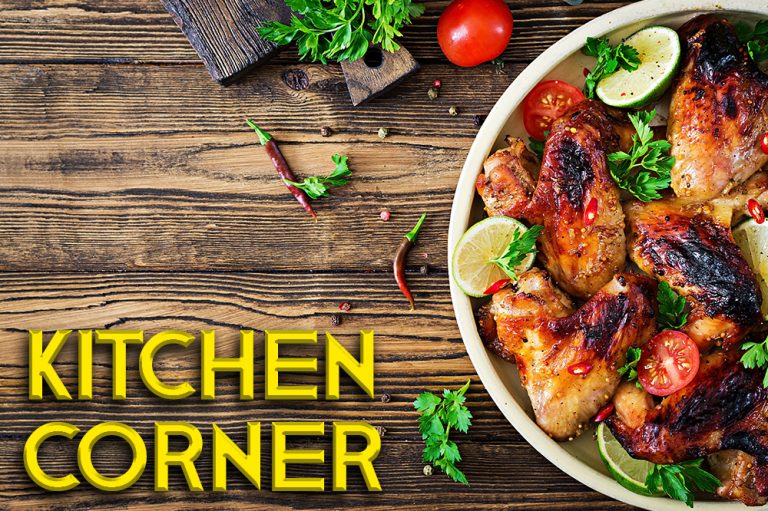 Kitchen Corner
May 24, 2022
Chicken Spaghetti
You will need:
2 small boneless skinless chicken breasts
2 teaspoons Italian Seasoning Salt/Pepper
2 Tablespoons oil
4 Tablespoons butter
1 small onion, diced
3 cloves garlic, minced
4 Tablespoons flour
1 1/ 2 cups chicken broth
3/ 4 cup milk
4 oz. cream cheese, softened
1 cup cheddar cheese, shredded
10 oz. diced tomatoes
8 oz. Thin Spaghetti,
1 cup mozzarella cheese, shredded Red pepper flakes & chopped parsley, to garnish
Method:
Preheat oven to 400 degrees. Slice the chicken in half lengthwise to create 2 thinner slices. Pat dry and season lightly with salt/pepper and Italian seasoning (or green seasoning). Heat the oil over medium-high heat and sear the chicken on each side for 5-6 minutes. Remove and set aside.
Dice into bite-sized pieces once cool enough to handle. Reduce heat to medium low. Melt the butter in the same pot and use a spatula to clean the chicken bits from the bottom. This is called "fond" and it gives the sauce a nice flavour. Add the onions and cook until softened, about 4 minutes. Add the garlic and cook for 1 minute. Sprinkle flour over the onions and toss to coat.
Cook for 2 minutes, until you can no longer smell flour. Add the chicken broth in splashes to maintain the thickness of the roux. Stir in between each splash. Add the milk next, a little bit at a time. Whisk until combined and smooth. Now is a good time to start boiling the water for the pasta. Cook it according to package instructions and drain once finished.
Let the sauce simmer and reduce while the pasta water heats up.
Add the softened cream cheese and stir continuously until melted and smooth. This is more difficult if the cream cheese is cold. Reduce heat to low and let the base cool a bit. Sprinkle in the shredded cheddar and stir to combine. If you'd like to thin the sauce out at all, add a little bit of the juice from the diced tomatoes, otherwise, drain the juice and add the tomatoes along with the chicken. Stir to combine.
Stir in the spaghetti. If you're not using an oven-safe pot, transfer to a lightly greased 9×13 casserole dish. Top with mozzarella cheese and bake uncovered for 15 minutes. If desired, broil it for a few minutes at 475 degrees at the end, watch it closely.
Remove from the oven.
Garnish with red pepper flakes and fresh Parsley.
Serve with a side of Garlic Bread with Cheese.
Tip: I tend to substitute cream cheese for cream of mushroom as I can no long handle that much heavy cream or milk products. I also reduce the cheese to a comfortable amount. You do not have to buy broth as you can make your own when you are parboiling meat or you can just add a large Maggi cube to 1 cup of water. Chicken breast can be very pricey now so I will use leg quart thighs to get the meat I need. If you do not want to use the tomatoes, fresh or canned, you can use some pasta sauce or even tomato paste to give the flavour.