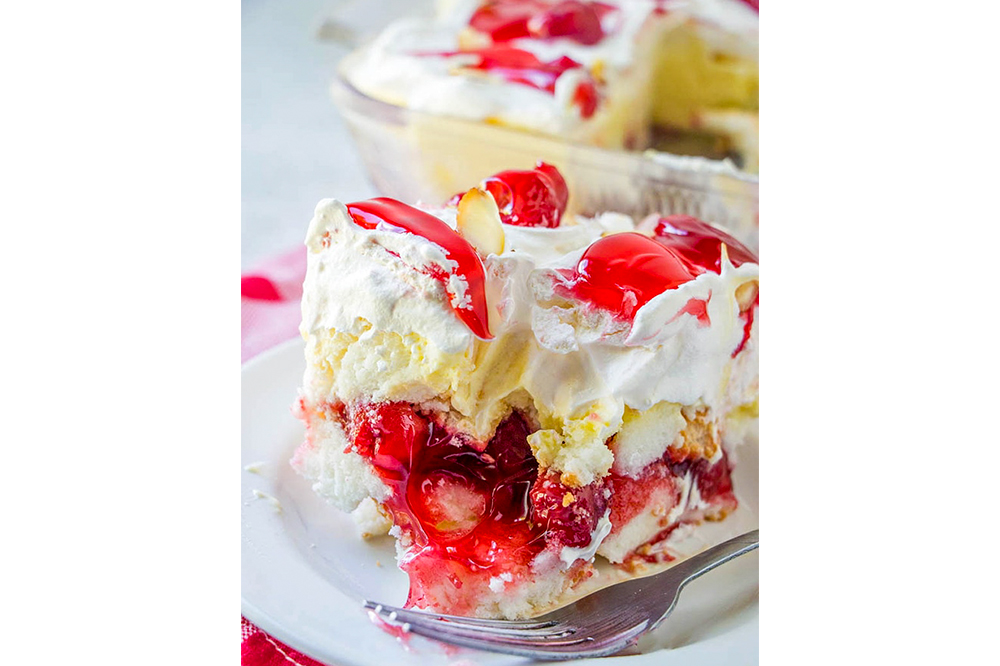 Kitchen Corner
December 23, 2019
Heaven on Earth Cake
Let's face it, with all that's going on around this time of year, we are really trying to get delicious dishes as easy as possible. This dish will definitely do the trick. So give it a try and enjoy.
You will need:
1 box White Cake Mix
1 package (3.4 ounces) instant vanilla pudding
1 1/ 2 cups milk
1 cup sour cream
1 can cherry pie filling
1 tub (8 ounces) Cool Whip
1 tablespoon almond slivers, toasted (optional)
Method:
Bake cake mix according to package's directions. Allow to cool and cut into cubes. In a bowl, combine pudding mix, milk, and sour cream and beat until smooth. Set aside. In a 9×13 baking dish, arrange 1/ 2 of cake cubes in a layer. Spoon 2/ 3 of cherry pie filling over cake.  Place the remaining 1/ 2 of the cake on top of pie filling. Spoon pudding over cake and spread evenly. Spoon and spread whipped topping over pudding layer. Garnish cake with the remaining pie filling and toasted almonds. Chill for about 4 to 5 hours.
Tip: Plain or Greek yogurt can be used in place of sour cream, in a ratio of 1:1. Take a cup of yogurt, and mix a tablespoon of vinegar or lemon juice.