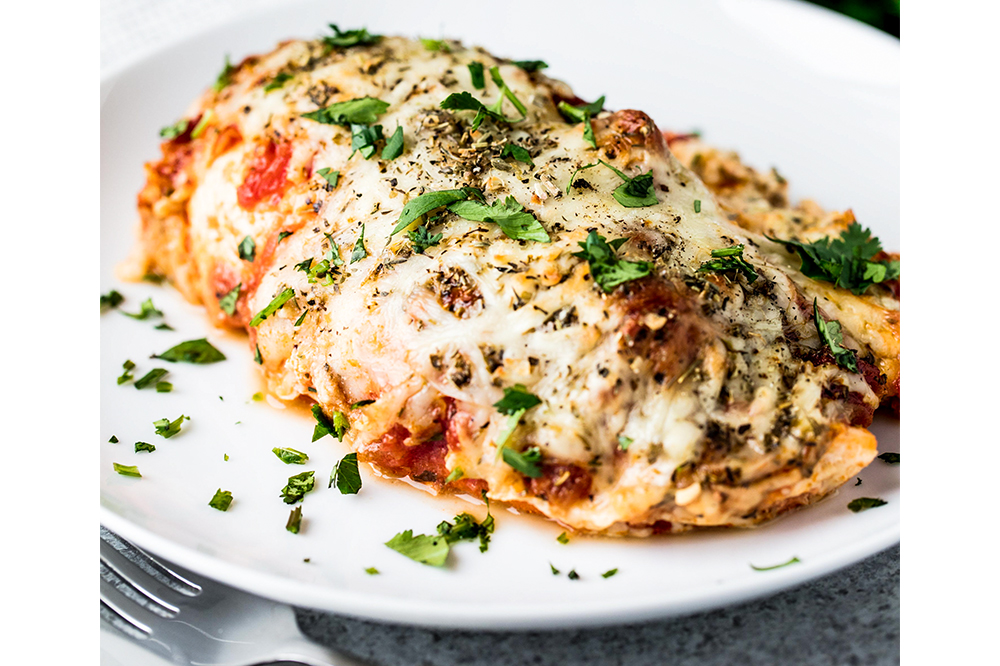 Kitchen Corner
July 16, 2019
Lasagna Stuffed Chicken
This dish sounds so fancy and it is, but it's also so easy to do. Perfect for a gathering or just a quick meal prep in the week.
You will need:
3/ 4 cup ricotta or cream cheese
1 1/ 4 cups shredded mozzarella, divided
1/ 4 plus 2 tbsp. freshly grated Parmesan, divided
1 large egg
2 tbsp. freshly chopped basil, plus more for serving
Salt
3 tbsp green seasoning
Ground black pepper (optional)
4 boneless skinless chicken breasts or turkey breast (about 1 3/ 4 lb.)
1 1/ 2 cups marinara, pasta or spaghetti sauce
1 tbsp. extra-virgin olive oil
1/ 2 tsp. Italian seasoning (optional)
Method:
Preheat oven to 375°. In a bowl, combine ricotta, 1/ 2 cup mozzarella, 1/ 4 cup Parmesan, egg, and basil. Season with salt and pepper.  Cut a pocket in each chicken breast. Rub green seasoning all over the chicken breast making sure to get inside the opening. Stuff each with 2 tablespoons marinara sauce and 1/ 4 of ricotta mixture.  Arrange stuffed chicken in the bottom of a 9"-x-13" baking dish. Sprinkle with Italian seasoning and drizzle with oil. Bake until chicken is just cooked through, about 25 minutes. Discard excess juices in pan. Change oven to broil or lower the oven and top the chicken with remaining 1 cup marinara, remaining 3/ 4 cup mozzarella, and remaining 2 tablespoons Parmesan. Broil until cheese is golden and bubbly, about 4 minutes. Garnish with basil before serving.