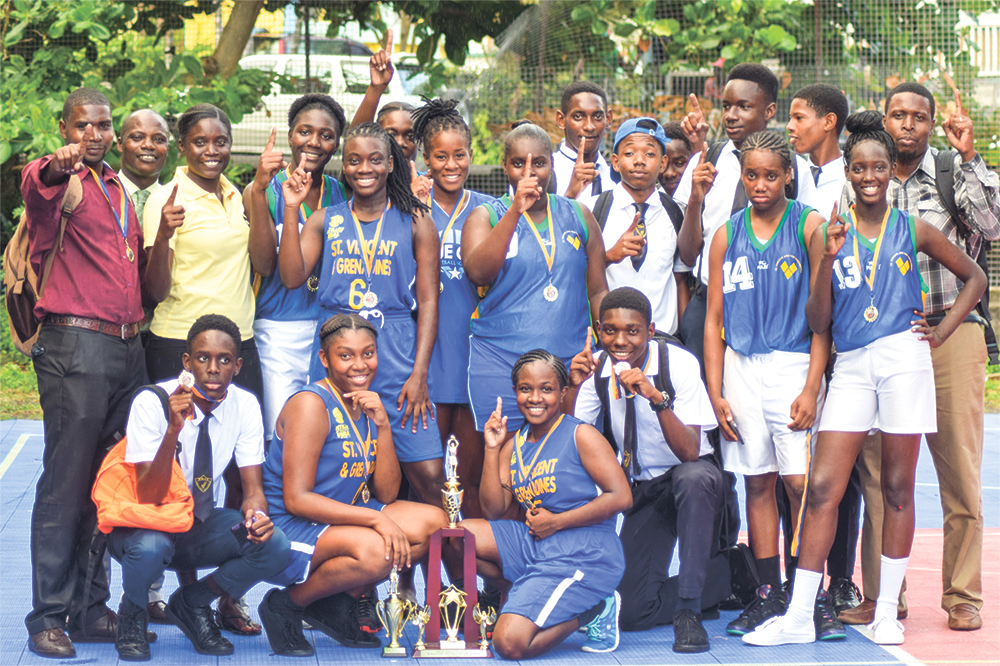 Petit Bordel Secondary trumps schools' basketball female division
PLAYER OF THE FINAL Nekeisha Lavia accepts award from Wayne Williams President of the SVG Basketball Federation
PETIT BORDEL Secondary School laid hands
on the first place trophy of the female division of the Ministry of Education's basketball tournament, which finished last Monday at the Girls' High School court.
A 37-29 win over fellow North Leeward institution Troumaca Ontario Secondary, earned Petit Bordel Secondary the title, as full court basketball returned to the schools' calendar.
Leading Petit Bordel in the final was Mekeisha Lavia, who was adjudged the player of the final.
In the lead-up to last Monday's final, Petit Bordel had a 38-12 win over the Girls' High School and Troumaca defeated Bishop's College Kingstown 4616, in the two semi-finals.
Girls' High School took the third spot with a 58-3 drubbing of the Bishop's College Kingstown.
The male division was set for completion yesterday, with an all Bequia final, featuring Bequia Community High and Bequia Seventh Day Adventist.
JUBILANT PETIT BORDEL male students and teachers celebrate with female basketballers at the capture of their title